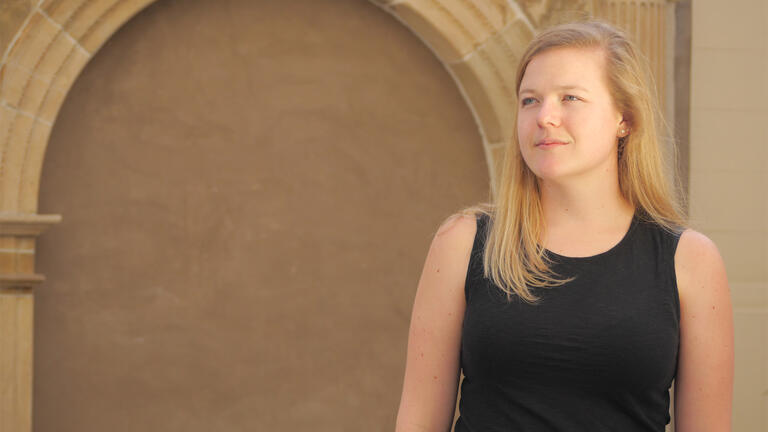 Bringing Injustice to Light
Teaching history to teach social justice
Looking at the world from many different perspectives is crucial for a good education, and, as a teacher, Andrea Struve '14 knows the value of a good education. Since graduating with a degree in history and her dual degree in teacher preparation (DDTP), she has been teaching high school in Palo Alto, and pursuing her doctor of education degree (EdD) in the international and multicultural education program at USF's School of Education, with a concentration on human rights education. She credits her background in history with teaching her to think critically about the past and examine it through various lenses, which she aims to pass onto her own students.
What attracted you to the history program?
The history program really holds true to student choice, supporting the pathways taken and guiding students along the way to success. Because of this, I truly felt like a tight knit community had welcomed me and accepted my unique interests.
How did the faculty help you grow in the program?
I thank Professors Katrina Olds and Elliot Neaman with fostering my love of research and ability to synthesize sources. Their classes were the first I took in the program and introduced me to historical writing. It was Professors Michael Stanfield and Julio Moreno who expanded my perspectives of Latin American and U.S. foreign policy, while Professor Kathryn Nasstrom challenged my view of Civil Rights history through film. She later helped me through an honors thesis on the changing roles of women in WWII.
The faculty furthered my passion for history and made it clear that I was where I was supposed to be. Their information imparted not only the importance of history, but also the skills needed to interpret and critique it. This allowed me to be an effective teacher, giving my students guided instruction and activities to enrich their learning based off of my own experiences.
What is your fondest memory from the program?
I have several memories that I cherish. My senior year I attended a talk from Professor Clarence Jones about his role in Martin Luther King, Jr.'s activism and life. To this day, I keep in touch with Professor Jones and work with him on my own high school curriculum for the Civil Rights Movement.
I also had an opportunity to be one of the inaugural University Fellows at the Holocaust Center in San Francisco. With the team at the Holocaust Center, I learned how to use primary sources to enrich concepts, speak to young adults about difficult topics, and lead interactive workshops for large audiences. To this day I still keep in touch with the Director of Education there. The people I met through these opportunities have framed the way I think about history, teach it, and how my students learn it today.
How do you see your role as an educator contributing to social justice?
The goal behind human rights education is to ensure all are aware of their rights and to teach with those rights in mind in order to inform current and future generations. My goal is to become a phenomenal history teacher, and getting a further education in how to empower learners, using the content I am so passionate about, will help me to achieve my goal.
What impact do you hope to make on the world?
After finishing the doctoral program, I would love to really put my craft to work, focusing on melding together history, teaching, and a human rights framework in my classroom. I hope to educate using differing perspectives, challenging preconceived ideas, and causing the students who come into my class to question their own history, bringing injustices to light along the way.