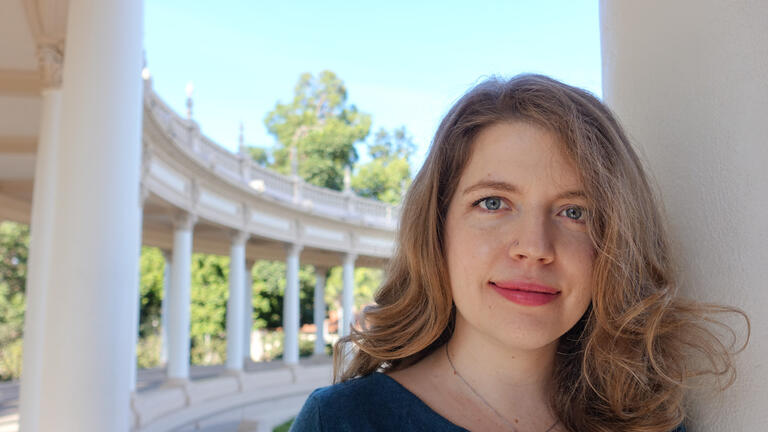 Preserving the Past
The keys to understanding the present
Learning from the past in order to understand our present is the key to growth and bettering our current societies, and Julie McInnis '08 knows all about preserving the past. After graduating from USF's history program, she spent seven years working in the conservation division at the Library of Congress in Washington D.C., treating, stabilizing, and housing rare books, prints and photographs, early manuscripts, pre-Columbian artifacts, and more. She now does similar work with the San Diego Natural History Museum and credits her background in history with developing her desire to study and think critically about historical artifacts.
How did the history program prepare you for your career?
I can trace everything that has happened in my career back to an internship at Golden Gate National Recreation Area, Park Archives and Records Center, which I got through the program. From that internship grew experience and contract work which cemented my love of archives and museums, which then directed me to Washington D.C. (where museums are plentiful). My experience at USF set a strong foundation for work at the Library of Congress and beyond. A lot of life is about being in the right place at the right time, but it is on us to be prepared when the important moments happen.
What was your favorite thing about working at the Library of Congress?
The Library of Congress proudly collects virtually everything, far beyond just books. I had the privilege of learning from world-class conservators and specialists, and over time my responsibilities grew to include things like managing rehousing projects, designing treatment photography workflows, and being a core member of the exhibitions team.
It's impossible to pick a favorite moment when I so often got to work with incredible collection items and observe others doing the same, though the satisfaction of stamping leather for a box spine, or mending a typewritten page from 20 broken pieces back into one is up there.
Why did you choose to major in history?
Studying history showed me that it is impossible to know everything. We must never lose our ability to think critically and question the world around us. Primary documents, like many of the items I and other museum professionals work hard to protect, are often the keys to understanding. By learning how important these collections are to our social, civic, and academic knowledge, I have been able to find great meaning in the work I do.
What is your favorite memory from the history program?
Honestly, I got excited whenever it was time to select upcoming classes! There were always so many interesting subjects to choose from, and I wanted to absorb it all. Additionally, I loved digging through the library for source material and staying up late writing research papers in Lone Mountain. I was very proud to be the recipient of the David Herlihy award for my senior thesis paper on female representation in the 1871 Paris Commune.
How do you like being back in California!?
After seven amazing years at the Library of Congress, it was time to move back west and be closer to my family in Hawaii. A lot of the work I'm doing at the San Diego Natural History Museum is similar to what I did at the Library of Congress, though on a smaller budget and scale. It is giving me great insight into the needs of smaller institutions, and I feel even more capable of creating simple ways to protect and improve the life of our historical treasures, no matter where they are. I love being back on the west coast. San Diego is beautiful, but San Francisco still has my heart...we may be moving back next year, actually!