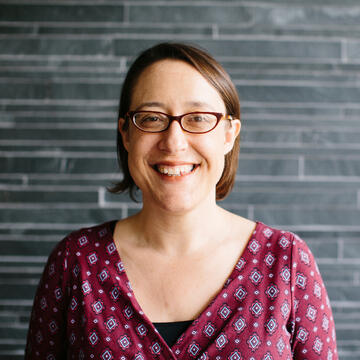 Katrina B. Olds
Professor, History
Department Chair
Full-Time Faculty
Biography
Katrina Olds is Professor and Chair of History at the University of San Francisco, where she teaches undergraduates a broad range of topics in history and the humanities. Her first monograph, Forging the Past: Invented Histories in Counter-Reformation Spain (Yale, 2015) analyzed the intellectual, cultural, and political effects of a sixteenth-century Spanish Jesuit's forged historical texts, and was recognized by the American Catholic Historical Association with its John Gilmary Shea Prize. Her articles on neo-Latin forgeries; the unruly process of authenticating saints' relics in the Counter Reformation; the eclectic methods of Spanish antiquaries; and relics, saints, and memory in Spain and the Americas have appeared in Renaissance Quarterly, Catholic Historical Review, and in various edited volumes. She is also co-editor (with Emily Michelson and Jan Machielsen) of the forthcoming Cambridge Companion to Counter-Reformation Saints and Sainthood. Her current research projects include "The Blasphemous Enlightenment: A Picaresque History of Ideas in the Eighteenth-Century Spanish Atlantic" and "Irreverent Reverence: Laughter and the Sacred in Early Modern Spain."
Prof. Olds is always happy to engage with students about their academic and intellectual preoccupations; strange histories in the past and present; and grad school, a/k/a, "What should I do with my life?"  In addition to the range of classes that she teaches for the history department on pre-modern Europe, Prof. Olds enjoys offering interdisciplinary courses in the humanities for the Saint Ignatius Institute and the Honors College.
Research Areas
The inquisition in Spain and the Americas
Early modern Catholicism and counter-reformation
History of religious belief and skepticism
Appointments
Chair, Core Advisory Subcommittee for History and Literature, 2023-Present

Deans Medal Selection Committee, 2023

Academic Advisor for USF Study Abroad at Oxford (Blackfriars College and Middlebury Center for Medieval and Renaissance Studies Programs), 2019-23 

Director, Saint Ignatius Institute, 2019-22 

Member, University and College of Arts and Sciences Tenure and Promotion Peer Review Committees, 2018-20
Education
PhD and MA, History, Princeton University
Masters of Theological Studies, Harvard Divinity School
Awards & Distinctions
USF and Faculty Union (USFFA) Distinguished Research Award, 2017
USF Dean's Scholar Award (for research of great value/impact), 2015
John Gilmary Shea Prize for Best Book of the Year on Catholic History, American Catholic Historical Association, 2016
Honorable Mention, Best First Book of 2013-15, Association of Spanish and Portuguese Historical Studies
Selected Publications
Editor, with Emily Michelson and Jan Machielsen, Cambridge Companion to Counter-Reformation Saints and Sainthood, Cambridge University Press – expected 2024

"The Material of Memory in the Seventeenth-Century Andes: The Cross of Carabuco and Local History" in Remembering the Reformation, Brian Cummings, Ceri Law, Bronwyn Wallace, and Alexandra Walsham eds., Routledge, 2020

"Local Antiquaries and the Expansive Sense of the Past: A Case Study from Counter-Reformation Spain" in Local Antiquities, Local Identities: Art, Literature, and Antiquarianism in Early Modern Europe, Kathleen Christian and Bianca Divitiis, eds., Manchester University Press, 2018

Forging the Past: Invented Histories in Counter-Reformation Spain (Yale University Press, 2015)
"The Ambiguities of the Holy: Authenticating Relics in Seventeenth-Century Spain." Renaissance Quarterly 65, no. 1 (2012): 135-184.