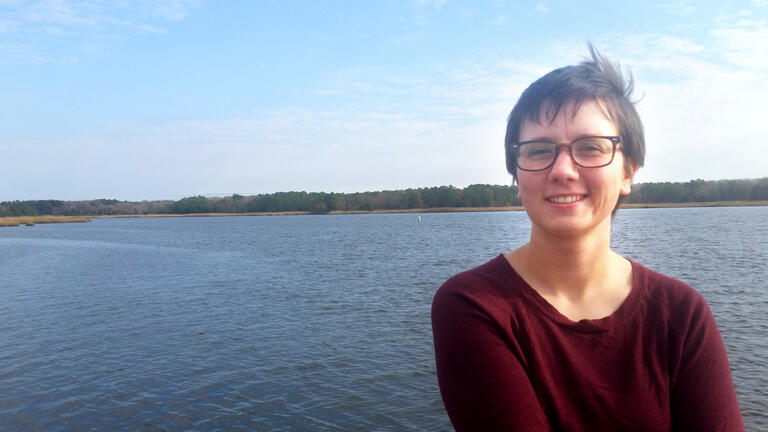 Caretaker of Knowledge
Promoting open access of information
Charlotte Perry-Houts '15 studied history to better understand the world, in order to make a positive difference. Now, through her work at the Public Library of Science (PLOS) and Altmetric, Charlotte gets to make that difference by promoting the open access of information, which can contribute to a more fair and just world.
The Open Access Movement strives for the open sharing of research and information in order to make important truths available to the public, and Charlotte is an avid supporter of this movement. She credits USF's history program with fostering her passion for social justice and providing her with a crucial internship opportunity that led to her job with PLOS.
How did the history program prepare you for your career?
In the program, I became very interested in being a caretaker of knowledge through history assignments that sent me to various libraries, archives, and other sites in the Bay Area to observe and do research. This interest, with the help of the history program and Professor Kathryn Nasstrom's Loading... , led me to a really cool internship at Freedom Archives in San Francisco.
How was your experience with Freedom Archives?
Freedom Archives deals with lesser-known aspects of the Civil Rights Movement, and preserves a lot of material on Bay Area movements. I listened to and catalogued a set of original reel-to-reel tapes from Berkeley's "Little Free Speech Movement" of 1966-67. I also digitized a portion of that collection. This cataloguing and digitizing experience was exciting, because it made a resource publicly available which would otherwise sit gathering dust on a shelf. There is something very powerful about handling original materials from a time we look back on as significant.
Having an archive on my resume directly led to my first job after college at the San Francisco Public Utilities Commission, where I archived engineering documents and got more experience, which was very helpful in getting me interviews at PLOS and my current job with Altmetric.
How has your career incorporated your passion for social justice?
The companies I've worked for are concerned with changing the nature of scholarly communication. PLOS and Altmetric both have missions that support the democratization of academia by increasing access to scholarly materials and broadening the way academia (and the public) views the notion of "impact" beyond elite circles. The movement to democratize scholarly communication is inspiring, because it is causing academics to rethink their priorities, share information more freely, and listen more seriously to diverse voices.
I am interested in this field because I care about helping people access the truth by promoting information literacy and the free sharing of research. I want to inspire people to be passionate about history, to care and live with compassion, and to seek truth. Right now I think I'm contributing to those things by promoting open access to information.
What is your fondest memory from your time at USF?
I met my wife at an Occupy USF demonstration, so I suppose that tops it. In fact, the Occupy USF protests were an amazing highlight — we organized outdoor meetings each week to talk about the Occupy movement, hear everyone's perspective, and discuss politics in a free and open setting. For me it was a great coming together of my passion for history, politics, urban agriculture, and environmentalism.