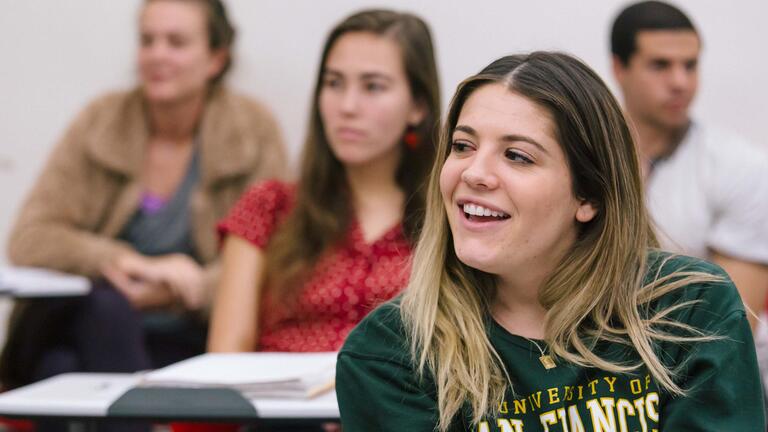 USF IN SANTA ROSA
Scholarships & Aid
The Northern Sonoma County Mental Health Talent Pipeline Scholarship 2024
USF's School of Education in partnership with the Healthcare Foundation of Northern Sonoma County is pleased to offer three scholarship opportunities for bicultural, bilingual Spanish speakers who agree to provide mental health services in northern Sonoma County. The scholarship will cover 100% of the tuition cost of enrollment in the Master of Arts in Counseling Psychology, Marriage and Family Therapy (MFT) program offered at the USF Santa Rosa location. Preference considerations are given to students living in or near the towns of Cloverdale, Asti, Geyserville, Simi, Healdsburg, Windsor and northern Santa Rosa along the Hwy. 101 corridor as well as to students who intend to provide mental health services in northern Sonoma County during traineeship and for at least two years after graduation at an approved site. In addition, financial need is taken into consideration and USF will request that eligible students submit a 2024-2025 Free Application for Federal Student Aid (FAFSA) at the time of application in order to assess financial need. If a student is unable to complete a FAFSA for any reason, USF will assess their financial eligibility on a case-by-case basis.
For scholarship consideration, applicants should:
Have a current 2024-2025 FAFSA on file, have applied to, been interviewed, and admitted to the MA in Counseling Psychology, MFT program by July 1, 2024.
Submit a complete application, including all documents, by June 15, 2024. It is highly recommended that applicants submit their applications well before the June 15 deadline. It is quite possible that the program will fill before June 15.
Add to the end of their Statement of Intent that they are bilingual, bicultural Spanish speakers who would like to be considered for the Northern Sonoma County Mental Health Talent Pipeline Scholarship.