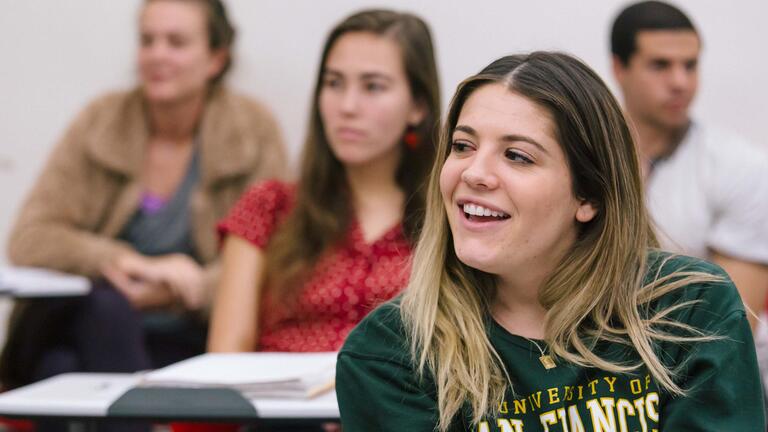 USF IN SANTA ROSA
Facilities
The University of San Francisco's Santa Rosa location provides the amenities of Santa Rosa Junior College (SRJC) with USF classes housed within the Doyle Library building. 
Special student support is offered remotely and on the main USF campus through our Career Services Center, Counseling and Psychological Services, and Student Disability Services Office. 
Hours of Operation
Within the Doyle Library, the USF University Partner office is open from 9 a.m. to 5:30 p.m. on most Monday-Fridays excluding holidays and during the summer session when hours vary. The office is staffed by the Admission & Outreach Manager. Visitors are encouraged to call (707) 527-4552 to schedule either an in-person or phone appointment. 
Classrooms
Classroom spaces vary from larger, theatre-style classrooms to conference rooms and computer labs. Classrooms are equipped with the latest instructional technology.
Resources
USF students are granted access to Doyle Library amenities, including computers, printing, and study rooms. USF's Gleeson Library remains the academic home of our student with extensive email, phone, in-person, and chat support to our students. Online and Distance Services provide access to databases, the library catalog, and document and book delivery.
Wireless Internet
Wireless Internet access is available from most points on campus.
Food and Beverages at the USF SRJC Location
Food and Drink at SRJC is provided at various locations on the SRJC campus. The Servery and Bear's Den are both located in the Bertolini Student Center. Snacks are sold across the quad in the campus bookstore. Additionally, students visit one of the many restaurants on Mendocino Avenue or pick up something at a nearby grocery store. 
Parking
Parking is available at multiple locations on the Santa Rosa Junior College campus. We provide a parking pass for all current students and approved faculty. Visitors may purchase a parking permit from the kiosk located in the parking lot. Visitors who will be on campus for an hour or less may use the metered parking spaces located at Burbank and Emeritus Circle.