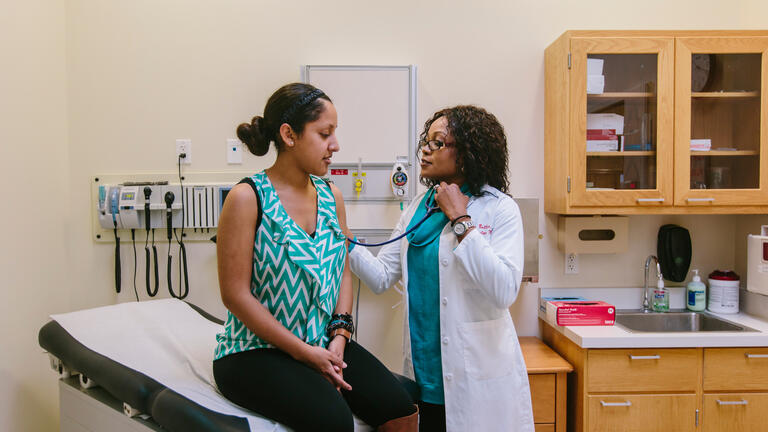 Family Nurse Practitioner, DNP
FAQs
The Doctor of Nursing Practice (DNP) is a practice-focused degree concentrating on healthcare outcomes of individuals, populations, and on the general advancement of the nursing profession.​
Our curriculum gives you the opportunity to gain exposure to diverse perspectives, to be immersed in theory and research, and to obtain a critical understanding of professional practice issues. If you have further questions about the program please contact health@usfca.edu or call (415) 422-4124.
The changing demands of our nation's healthcare environment requires the highest level of scientific knowledge and practice expertise to assure the best possible patient outcomes. The Doctor of Nursing Degree (DNP) builds on traditional nursing baccalaureate and graduate programs by providing education in evidence-based practice, quality improvement and systems leadership. The DNP degree is designed for nurses to fully implement the innovations in nursing care and contribute to the evolution of the healthcare system.

The 2004 AACN position statement on DNP identifies the following benefits of practice focused doctoral programs:

Development of needed advanced competencies for increasingly complex practice, faculty, and leadership roles;
Enhanced knowledge to improve nursing practice and patient outcomes;
Enhanced leadership skills to strengthen practice and health care delivery;
Better match of program requirements, credits and time with the credential earned;
Provision of an advanced educational credential for those who require advanced practice knowledge but do not need or want a strong research focus (e.g., practice faculty);
Enhanced ability to attract individuals to nursing from non-nursing backgrounds;
Increased supply of faculty for practice instruction.

While the DNP and the PhD in nursing are terminal degrees that involve demanding expectations, a scholarly approach to the discipline and commitment to the advancement of the profession, there is one main difference. In general, the PhD tends to focus on the development of new knowledge by use of research methodology. The DNP, on the other hand, is focused on the translation of that evidence into practice.

Source: The Essentials of Doctoral Education for Advanced Nursing Practice. (2006, October). AACN

DNP graduates are trained to influence health care outcomes for individuals and populations including direct care of individual patients, management of care for individuals and populations, administration of nursing and health care organizations and the development and implementation of health policy.

Source: AACN, 2004, p2

Family Nurse Practitioner
Psychiatric Mental Health Nurse Practitioner

Nurse Practitioner is an advanced practice registered nurse (APRN). APRNs are independently licensed practitioners who may focus on a particular specialty area, such as family practice, geriatrics, internal medicine, pediatrics, or women's health care. Nurse Practitioners are educated and prepared to diagnose and treat patients with varying health care needs in primary and acute care settings. This care includes: counseling, disease prevention, acute/chronic disease management, health education and promotion, and prescribing medication.

As the nation faces a shortage of primary care, nurse practitioners (NPs) are quickly becoming the health partner of choice for millions of Americans, with over 870 million visits made to NPs each year. NPs provide high- quality, patient-centered healthcare using a unique blend of expertise that focuses on the whole person through the diagnosis and treatment of health conditions, as well as through disease prevention and management

For example, in 2017- 86% of NPs were prepared in primary care programs, while only 14.5% of physicians entered a primary care residency. View this illustration created by the American Association of Nurse Practitioners to learn more.

Source: American Association of Nurse Practitioner (AANP)

A Family Nurse Practitioner (FNP) is a nurse practitioner (NP) specialty with a broad range of skills and scope of practice. FNPs are trained to work with patients of all ages and often work in underserved communities. FNPs will often maintain long-term relationships with their patients, learning about intimate personal health details and tracking health performance over time.

The Family Nurse Practitioner, DNP program prepares registered nurses (RNs) with a baccalaureate or master's degree to function as advanced registered nurse practitioners in the FNP role. As an FNP, you will be trained to conduct comprehensive health assessments, diagnose and manage acute illnesses (with appropriate referral), manage chronic conditions, and serve as the primary health care providers in many settings. Students are able to design models of health care delivery, evaluate clinical outcomes, identify and manage the health care needs of diverse populations, and use technology and information to transform the field.

Psychiatric Mental Health Nurse Practitioners (PMHNPs) provide primary mental health care in a wide range of settings and patients. A PMHNP provides comprehensive, holistic psychiatric-mental health services to family member sand individuals across the lifespan to emphasize health promotion and risk prevention.

The Psychiatric Mental Health Nurse Practitioner, DNP program prepares registered nurses (RNs) with a baccalaureate or master's degree as advanced registered nurse practitioners (ARNPs) in the PMHNP role. A postgraduate PMHNP certificate program is available for the doctorally prepared nurse. With this degree you'll be equipped to provide a wide range of services to adults, children, adolescents, and their families in settings ranging from primary care facilities, outpatient mental health clinics, and psychiatric emergency zones to skilled nursing and assisted living facilities, private practices, and hospital or community health centers.

Practicum work to fulfill the clinical practice requirement may vary by DNP program or track. Practicum courses will allow students to operationalize advanced nursing roles specific to direct care or indirect care. Students work closely with their assigned faculty advisors to identify the total number of required practicum/clinical hours.

Nurse practitioner clinical placements arrangements are made in collaboration with the NP clinical faculty. Clinical faculty will select a placement for you unless you have a specific placement in mind. If you have a clinical placement contact the faculty will work with you to establish a clinical contract. Your place of employment may be used as long as the designated preceptor is a nurse practitioner or physician.

Yes, you are eligible to transfer in up to 500 practicum hours from approved nursing master's level practicum coursework. You will work closely with your advisor to identify which and how many practicum hours can be transferred and the best place(s) to complete them.

We have many students who are in academic settings and their projects benefit their university. We have strong connections to policy makers so we can connect students who are interested in those areas.

Yes. The final semester consists of a DNP residency immersion experience and completion of a comprehensive evidence-based project that demonstrates program subject mastery. It provides you with an opportunity to demonstrate your clinical and scholarly expertise through the development of a relevant, practice-related project designed to affect change or improve outcomes in the clinical setting. You'll work closely with your advisor and other faculty to develop and implement a project which they then evaluate.

Sample practicum work may include the following:

Partnership with community organizations to promote the health of high- risk populations and address screening or health education processes
Collaboration with private sector companies to design health and wellness programs
Design and implementation of wellness/health programs for private business or health care systems
Management of patient populations within primary care settings (direct care provider or coordination of care transitions)
Management of systems for coordination of care throughout the continuum
Coordination of patient transitions within acute care and community care settings

Hours may vary depending on both the specific class and on your comfort level with, and knowledge of, its content. You can expect to dedicate at least 2 hours per each unit of credit to study outside of class each week.

Yes. New graduates with limited -to- no experience are eligible to apply to the Family Nurse Practitioner and Psychiatric Mental Health Nurse Practitioner programs. Both programs require a minimum of a BSN degree; however, no experience is necessary to apply to our program.

We are seeing more and more positions requiring a DNP, especially in key nursing leadership roles. Many graduates are defining their roles due to the DNP project.

Some opportunities available with a DNP include:

Advanced practice nurses, such as nurse practitioners and clinical nurse specialists who practice in a variety of settings throughout the continuum of care
Case managers and care coordinators who follow a caseload of patients through the continuum of care, providing health education and disease management for patients with complex health problems
Public health nurses, school nurses and health educators who manage systems of care for specific groups
Community and ambulatory care nurse leaders moving into re-designed systems of care delivery
Acute hospital-based nurses who have responsibility for quality and process improvement, infection prevention or health education
Academia/Teaching
Research
Policy evidence-based practice improvement
Chief nursing officer
Chief operating officer
Other leadership positions

The University of San Francisco will accept up to 12 credit units from a previous master's and doctoral degree upon transcript evaluation.

You will be able to pursue your degree without having to put your professional life on hold. Course delivery options may vary based on DNP program.

Students attend classes twice a month on - Fridays (8 a.m. - 9 p.m.) and Saturdays (8 a.m. - 5 p.m.), called Teaching Weekends.

For nurses with BSN or higher:

4-4.5 years with a Bachelor's degree
2-3 years with a Master's degree

The majority of our learners are employed; however, adjustments in work schedules may be necessary to accommodate your individual study needs and clinical practicum requirements.

Admission to the program is based on an overall appraisal of the applicant's ability to undertake doctoral level studies as evidenced by the following:

Baccalaureate or master's degree from an accredited institution
3.0 undergraduate GPA (on a 4.0 grading scale)
California RN license
A written goal statement that describes your reason for pursuing a Doctor of Nursing Practice
Three (3) letters of recommendation
Résumé
Copy of official transcripts from all colleges and universities attended
A completed application form and fee

No, applicants to the DNP program are not required to take the GRE.

Our goal is to inform you of our decision within three to four weeks of submission of your application.

The amount listed on the tuition and fees schedule is inclusive of tuition and fees, supplemental learning materials, hotel accommodations, most meals, and transportation between hotel and university during teaching intensives.

Yes, USF offers substantial financial aid. US citizens and permanent residents are eligible for $20,500 in federal loans per academic year. You can apply for Graduate PLUS loans to make up the reminder of the cost. Scholarship and grant opportunities will be provided to enrolled students upon availability.