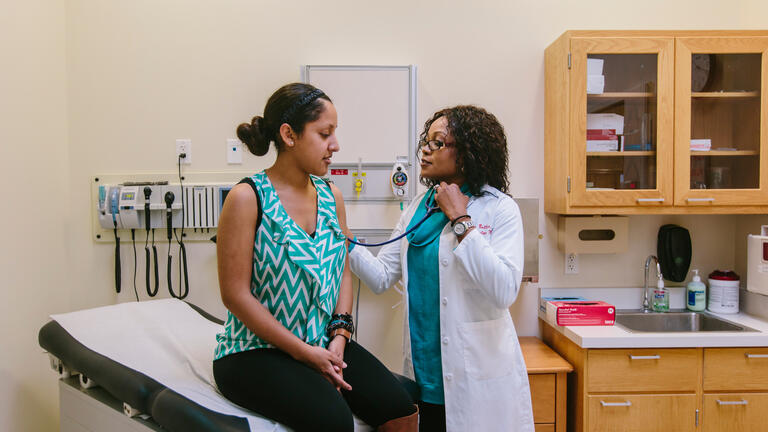 Family Nurse Practitioner, DNP
Program Overview
The Family Nurse Practitioner (FNP) program prepares registered nurses with a baccalaureate or master's degree to function as Advanced Registered Nurse Practitioners in the FNP role.
As an FNP, you will be prepared to conduct comprehensive health assessments, diagnose and manage acute and chronic conditions, and serve as the primary health care providers in a wide variety of settings. FNP graduates are further prepared to design models of health care delivery, evaluate clinical outcomes, identify and manage the health care needs of diverse populations, and use information technologies to transform the field.
Plans of Study
You can complete the program in​ ​four years with a BSN and ​t​hree years with a master's degree​. ​Courses are offered year round​ consisting of online and classroom learning during fall, spring, and summer semesters​.​ Students may remain active in their nursing careers while engaged in a curriculum thoughtfully balanced between online and classroom learning. Student clinical placements are facilitated by the FNP program.
FNP DNP for Nurses with a Bachelor's Degree
View Learning Outcomes & Degree Requirements
FNP DNP for Nurses with a Master's Degree
View Learning Outcomes & Degree Requirements
Master of Public Health (MPH) Dual Degree Option
The MPH degree program is CEPH accredited and promotes community engagement, professional collaborations, evidence-based practice, and public health advocacy. This track helps nurses develop practice-oriented skills and competencies to promote population health.
Delivery format - The MPH courses are taught online while the FNP programs are taught in a hybrid format.
Time to degree - BSN-DNP FNP is twelve semesters, with the master's degree completed along the way.
The MPH-DNP FNP dual degree option enhances students' population health leadership with exposure to the esteemed faculties of both programs.
View Learning Outcomes & Degree Requirements
Program Delivery
Hybrid Instruction - Through direct instruction by faculty members we ensure a robust learning experience by combining in-person attendance along with online instruction. We are committed to accessible education for the working professional and continue to develop our program to ensure a quality learning and interactive experience between faculty and students.
You attend teaching weekends Friday (8 a.m. – 9 p.m.) and Saturday (8 a.m. – 5 p.m.). For dates, see our teaching weekend schedule. In-person requirements for courses will be confirmed by faculty.
Clinical/Practicum Hours
FNP students must complete 1,000 supervised clinical practice hours.
Upon completion of the program, you will have completed the required coursework and clinical hours to meet the AACN Essentials of Doctoral Education for Advanced Nursing Practice.
State Authorization
Please check our State Authorization Status List for the states and territories from which we can enroll students in specific online degree programs.
Teaching Weekend Schedule
Earn a degree while working full-time. Learn more about our teaching weekend schedule.