Equipped to Lead and Succeed
School of Education Student Spotlight
Meet Noe Tapia, a current student in USF's MA Teaching & credential program in the South Bay.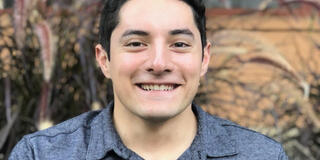 Noe Tapia is a current student in the MA Teaching (MAT) and credential program at the School of Education location in the South Bay.
Noe currently lives in Watsonville, California and commutes three hours each way by bus to come to our USF South Bay campus. He identifies as a first generation, Mexican-American student with disabilities. As Noe's advisor and professor for courses, I was honored and excited to meet with this extraordinary human and learn more about him and why he chose to attend the South Bay MAT program.
Tell me about yourself: Where did you grow up? What do you like to do? Who is in your family?
I grew up in Watsonville, California in an agricultural community that feels smaller than it is, with a predominately Latinx population. My parents are both immigrants from Mexico. I also have two sisters and two dogs, Mimi and Teddy. I like to be around the people I love, play guitar, listen to music, swim, and learn to do new things. My favorite songs are When you were young by the Killers or Snow by Red Hot Chili Peppers. You will often find me in a mosh pit at rock concerts. A large part of what makes me who I am is my disability. I was born with spina bifida which has left my mobility limited to a wheelchair. However, this has not limited my spirit and I always find ways to adapt.
What brought you to USF?
I never knew USF had a program in the South Bay until Ruchi came into my San Jose State University (SJSU) undergraduate class to talk about the program. The schedule and the way the program was structured caught my attention. Given the 1-2 times a week schedule, makes it easier for me to work at my old high school and save money by living with my parents. I am also able to student teach in the community I love and want to return to, Watsonville. Another big reason I came to USF was the focus on social justice. I want to go back to my community and teach my students about social justice and where they come from. SJSU, my undergraduate college, had a lot of students and you didn't get much face time with your professors. My major was so small and I loved that. I got to know my peers and my teachers and see them as a small family. This is my first semester here at USF and it feels the same. We all get along with each other and have built a small extended family.
Why do you want to be a teacher?
For the longest time, growing up, becoming a teacher was the opposite of everything I wanted to do. I came to SJSU after high school with the hopes of doing something with science. It was difficult to get into a biology major, so I had to explore different classes. I went into anthropology and I loved learning about differences in cultures and social science. History was my favorite subject. I would spend a lot of time with my friend, who always wanted to be a teacher, and how she would talk about her goals and desires, convinced me that I could do that too. As I processed my own schooling and growth, this evolved into wanting to be a good teacher for my students. There's so many students that have bad experiences, I want to make sure I could be a teacher that provides the support, comfort, guidance and mentorship they need to truly believe in themselves and what they can accomplish. Ideally, I want to go back to my community. It's what I know. It's the people I grew up with, the people I love, and the city that means a lot to me.
What is one of your favorite parts of being a student in the USF MAT program?
Being a family. As we learn a lot about the classes, how you feel in the classroom, ties in a lot to your experience in the classroom. Feels very easy to feel accepted, and loved. I never dread a Tuesday, even it is my longest day of the week, I know it is time and energy well spent.
What is a hope that you have?
Right now my focus is establishing myself and starting my career and being successful at it. I hope that whenever I end up with my own classroom I could be a combination of all the wonderful things my parents have taught me. I want to be a good role model for the students, someone who they can look back on and think positively. There are a lot of exercises like what is a class you had that was terrible and what was amazing- I hope that they will think of my class in that positive light. I also hope to learn violin.