Passion for Justice
School Counseling Students participate in Mind, Body, Soul Pop-up Event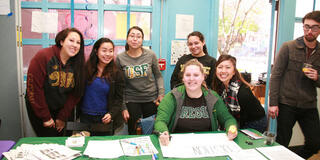 On February 25th, first year students in USF's School Counseling program participated in the Mind, Body and Soul community pop-up. The pop-up was hosted by Engage San Francisco, in partnership with the City of San Francisco - Department of Public Health, Westside Community Services, Collective Impact, and the University of San Francisco School of Nursing and Health Professions and School of Education.  
The Mind, Body and Soul pop-up seeks to respond to the Western Addition's need to have health and wellness services that are affordable, accessible and consistent. Utilizing a focus on wellness, the vision is to pilot a collaborative medical and behavioral health community pop-up that centers the mind, body and soul of the Western Addition youth. In support of this goal, school counseling students met with families and shared strategies for engaging in their children's schools. For example, school counseling students shared information about Individualized Education Plans (IEPs) - how IEPs work and the information contained within. Students also surveyed event attendees and collected interview data to capture families' experiences and evaluate the outcomes of the event. "The Wellness Pop-Up is a great opportunity for engagement with families outside of the school environment," explains Malik S. Henfield, Ph.D., Associate Professor and Program Coordinator, USF School Counseling Program.  "Given our program's emphasis on social justice in urban schools and communities, this is a wonderful collaboration that will allow our students to help families gain access to useful information and literally meet them where they are."
The pop-up is directed by Nolizwe Nondabula, Youth Health Alliance Program Coordinator for Engage San Francisco. Engage San Francisco is a transformative, university-community partnership designed to take the strengths of the University of San Francisco and partner with neighborhood non-profits and local government agencies to achieve real change in the Western Addition. "Through Engage San Francisco, USF works in partnership with the Western Addition community to address fundamental and systemic issues of inequity such as health care access. We are thrilled to have our faculty, students, and staff work side by side with Westside Community Services, DPH, Collective Impact and other community based organizations on this first Mind, Body, & Soul Pop Up," explains Karin Cotterman, Director, Engage San Francisco. In February 2016, USF's Engage San Francisco Initiative received a Super Bowl 50 Grant to address the behavioral health needs of Western Addition youth. That grant is funding these pop-up clinics.
The Mind, Body, Soul pop-up featured free gift bags, acupuncture & massage appointments, rapid HIV testing, Zumba class, cooking demos, vision checks, blood pressure checks, glucose testing, and youth focused games and activities. This is the first Mind, Body, Soul pop-up clinic. Future clinics are scheduled for April 29 at Buchanan YMCA and June 24th, location TBD.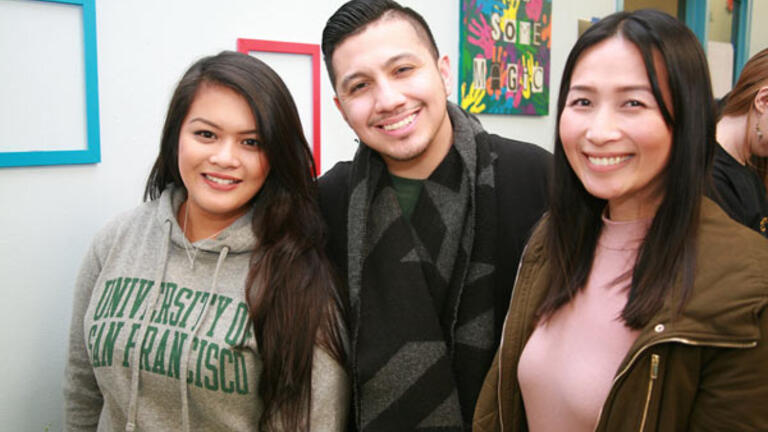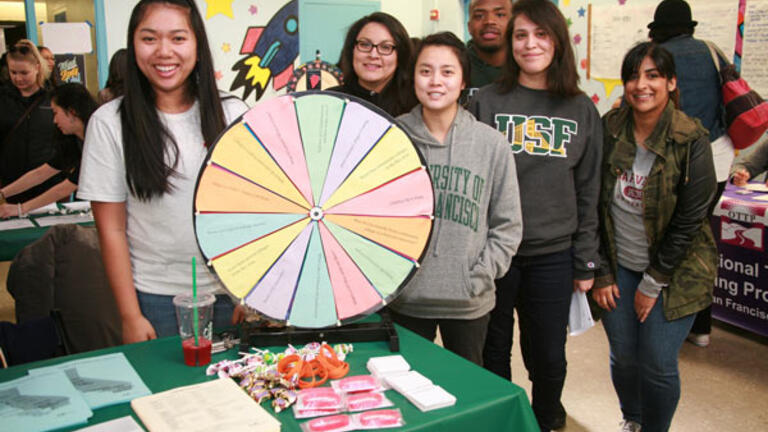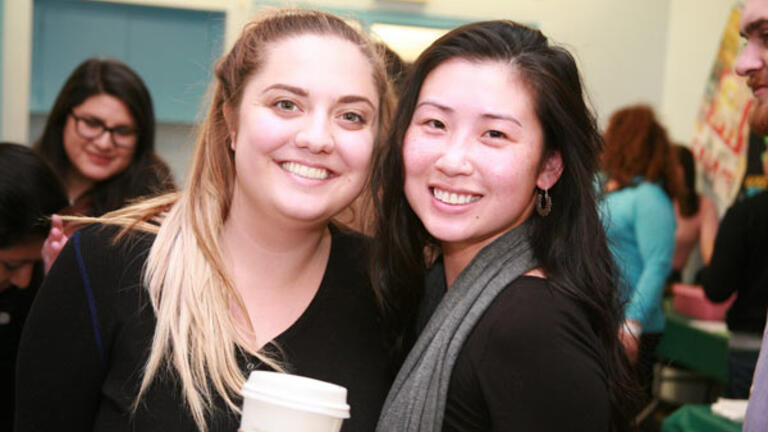 USF School Counseling students Andrea Madrinan, Jose Perez Sanchez, Mandy Yu (Left to Right) at the Mind, Body, Soul Pop-up Event.
USF School Counseling students Julie Nguyen, Azalea Roman, Trina Sida, Alex Moore, Vicky Reyes, Jasdeep Kaur (Left to Right) at the Mind, Body, Soul Pop-up Event.
USF School Counseling Students Emily Baize & Brenda Law (Left to Right) at the Mind, Body, Soul Pop-up Event.