Giving
The Marin Diverse Educators Scholarship Awards its First Recipient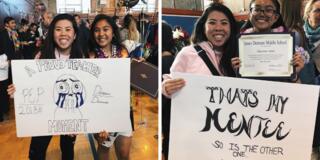 Established by alumna Jan McDougal MA '11 and her husband Steve McDougal, the scholarship supports students of color in the School of Education who are currently teaching or have intentions to teach, at a K-12 public school in Marin County, California.
Born in Vietnam, Cao immigrated to the United States when she was just a year old. From the day of her arrival, Cao has lived in San Rafael in Marin County. While she has a deep appreciation for her community in San Rafael, Cao admits that as a first-generation Asian-American, growing up in the predominantly white community had its challenges.
When it came to her education, the lack of educators of color directly affected her understanding of self-efficacy and success. Now, as an educator of color herself, Cao hopes to change the often isolating experience of education for youth of color by adding to the critical need for representation in the Marin community.
Representation Matters
"In school, I was doing the bare minimum to pass," says Cao. "I felt different, lonely, and small compared to my peers. I spent a lot of time trying to understand what it meant to go to a school where no one looked like me and no one could relate to my experience."
After graduating from high school, Cao's plan was to get into a nursing program. Without a teacher of color serving as an example, entering the field of education had never crossed her mind. When Cao started taking ethnic studies courses, specifically, Asian-American studies coursework at San Francisco State University, her viewpoint on education took a turn.
"To walk into a class and see people who look like you, listen to the histories of your people, and learn from someone that can relate to your experience — that changes everything. No student should feel as voiceless, unheard, and misunderstood as I did," says Cao.
Her desire to recreate the empowering education she received led her to pursue a Master of Arts in Urban Education & Social Justice at USF. In addition to being a teaching program, the Master of Arts in Urban Education & Social Justice program is uniquely centered on preparing teachers for transformative practice in schools that serve historically marginalized populations. The critical framework and social justice pedagogy the program teaches is what Cao believes has been missing from traditional education and yet essential to serving students of color.
Change as a Life Mission
As the first recipient of the Marin Diverse Educators Scholarship, Cao is grateful for the financial support this scholarship provides to pursue her dream of serving youth through transformative education by the donors who believe in the unique power of educators of colors like herself.
"A teacher of color saved my life," admits Cao. "That person showed me that education could be humanizing, empowering, and inclusive. As a teacher of color, I want to bring my wealth of knowledge and experience into spaces that need representation."
Cao has already begun empowering youth as the Curriculum Coordinator for San Francisco-based non-profit organization, Pin@y Educational Partnerships (PEP). After graduation, Cao intends to teach history courses in Marin County. She knows there is a desperate need for educators of color and she is ready to create a different form of history curriculum, one that features the power narratives and stories of communities of color in the U.S.
Continuing the Legacy
Cao hopes that the Marin Diverse Educators Scholarship can continue to support future generations of teachers whose life mission is to serve youth, especially youth of color, through transformative education. She is just one of many educators of color who, with the support of this fund will go on to be advocates for their own students, lead in schools, promote social justice, and continue the fight against systemic oppression.
This fall, an anonymous donor is generously matching gifts dollar-for-dollar up to $25,000 to support this scholarship and future recipients like Cao.
Please make your matching gift today and help us by spreading the word about this important scholarship »