Giving
The Generational Fight for Justice in Education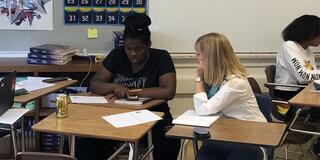 "I see injustice in every community and Marin is no exception," says Jan McDougal MA '11, a Marin-based education consultant.
In August of 2019, the Sausalito Marin City School District was hit with the first school desegregation order in California in half a century. The district was accused of deliberately segregating its school system and the order called for the immediate desegregation of two schools; the public school, Bayside Martin Luther King Jr. Academy, and the charter school, Willow Creek Academy.
Years before the order was given, McDougal started her career in education as a volunteer tutor at Bayside Martin Luther King Jr. Academy while simultaneously working in the business sector. As a tutor, McDougal met students who were brilliant but didn't see themselves that way and weren't being provided with the support and resources needed to succeed.
Changing the System from the Inside
McDougal knew she wanted to become a teacher to change the system of inequity in education from the inside. With social justice at the core of its curriculum, she chose to attend the University of San Francisco, enrolling in the School of Education's Masters in Teaching with a Single Subject (Math) credential.
At USF, she was introduced to Paulo Freire's Pedagogy of the Oppressed and Radical Equations: Civil Rights from Mississippi to the Algebra Project Book by Bob Moses and Charles E. Cobb Jr.; educational writings that informed her approach to teaching.
"In their own ways," said McDougal, "they taught me how to be effective as a white teacher to students of color — those works, and the classes I took at USF pushed me to consider the ways in which systemic oppression weighed on my students and the ways I could fight it by empowering my students with the tools to succeed."
After graduating from USF, she returned to Bayside Martin Luther King Jr. Academy as a Math teacher. But despite her rapport with students and determination to provide them with a high-quality education, turmoil within the district and ongoing budget constraints brought her teaching career at Bayside Martin Luther King Jr. Academy to a sudden end.
At the end of McDougal's third year of teaching the school board eliminated all the single subject teachers within the middle school. Her position was replaced with a multiple subject credentialed teacher who was asked to teach sixth to eighth-grade math and science. This left students with a teacher who had less bandwidth, time, and expertise to teach math at the level they needed to succeed.
"Math has historically been a gatekeeper to success for students of color. If we give students proficiency in math they can have more choices, without those skills, doors are closed to them. Leaving my students behind was heartbreaking, " said McDougal.
The Need for a Diverse Teaching Cohort
After leaving her position at Bayside Martin Luther King Jr. Academy, McDougal went back into the business sector as a strategy consultant, but this time chose to also work alongside schools and organizations committed to advancing equity in education. What she has discovered in both of her careers is the critical need for teachers of color in Marin's public schools.
"We're far behind having a teaching core that is representative of our students in Marin," she said. "While White teachers can serve students of color well, they are more likely to serve them well when they are working alongside teachers and administrative leaders who are people of color."
McDougal takes this commitment seriously. She and her husband, Steve McDougal, Co-founder of the renewable energy company, 3Degrees, have pledged $25,000 to establish the Marin Diverse Educator Scholarship, which will provide scholarships for students of color, who enroll in USF's School of Education and currently (or have intentions to) teach at a K-12 public school in Marin County.
"Change starts with listening, respecting, and recognizing the expertise of teachers of color, parents of color, and communities of color. The more we can attract strong USF-educated teachers of color who are equipped to fight for social justice, the more we're going to make a change," says McDougal.
An anonymous donor is generously matching gifts to the Marin Diverse Educator Scholarship Fund, dollar-for-dollar, up to $25,000. Make your contribution to this important scholarship »
This gift was made in support of Changing the World from Here: Campaign for the University of San Francisco.