Engaged Learning
Language to Transform
Through applied linguistics, School of Education faculty and students further social justice around the globe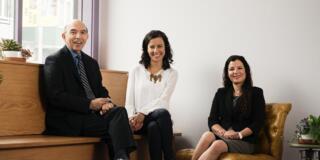 Dr. Sedique Popal along with International and Multicultural Education alumna Didem Ekici '18 and doctoral student Malihe Eshgavi '20 have connected their work through the study of language.
Dr. Didem Ekici works with Pax Populi, a nonprofit organization that aims to build peace in Afghanistan through online education. Students ages 16 to 25 enroll in online classes, offered in one of the educational advising centers in four different cities in Afghanistan. Since the majority of the students do not have access to the Internet, they go to the centers to attend classes with TESOL teachers in the United States. 
Malihe Eshghavi is currently working on a research project on bilingual speakers with dementia at the Department of Neurology, University of California, San Francisco (UCSF). As a doctoral student at USF she has been studying linguistics and neurolinguistics, bilingualism and brain aging, as well as the implication of neurolinguistics in the language classrooms.
---
I have an incredible opportunity to support the scholarly work of very dynamic and enthusiastic students like Didem and Malihe, who work tirelessly not only to contribute to the field of applied linguistics but also to promote social justice around the globe."

Sedique Popal, EdD
Professor, TEACHING ENGLISH TO SPEAKERS OF OTHER LANGUAGES (TESOL)
I am amazed by the transformative change students go through after this experience. Most of them mention how they develop self-awareness (like recognizing privileges and prejudices), how students understand 'the other,' have more empathy, and develop intercultural competence. My dissertation is about the intercultural experiences of these tutors."

Didem Ekici '18, EdD
International and Multicultural Education
with a Concentration in Second Language Acquisition
I strongly believe our thoughts, feelings, and emotions are not things that are, or that we have, but things that we program our brain to do. I am passionate about language learning and teaching, and I hope my research and work will open a new horizon for language learners to learn a language effectively in any age of their life. If we believe in the power of our brain to control our beliefs, then we definitely can achieve our goals."

Malihe Eshghavi '20, EdD Candidate
International and Multicultural Education
with a Concentration in Second Language Acquisition