Global Perspective
Here Come the Jesuits
Visiting graduate students bring Ignatian values to campus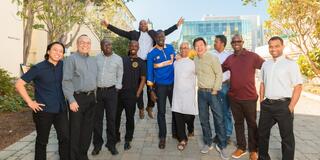 From leading late-night talks with students about faith to learning the American tradition of pumpkin carving, a new group of Jesuits at the University of San Francisco is enriching the community on campus.
USF is hosting 12 graduate students from around the world, all members of the Society of Jesus. In addition to pursuing graduate degrees, these graduate fellows volunteer on campus to support the university's Jesuit Catholic mission.
Brandon Ramirez '21, a student who lives in the Saint Ignatius Institute Living Learning Community where one of the new Jesuits, Samir Toppo, S.J., is resident minister, says the Jesuits are learning from the students — and vice versa.
"Fr. Samir brings a new perspective to the table — first, he isn't quite familiar with American culture and spent some time learning about this idea of pumpkin carving for Halloween," said Ramirez. "But Fr. Samir also has taught us the examen, a typical prayer style that doesn't require belief in any faith and is used as a self-reflection and meditation technique to breathe and relax."
Those kinds of experiences are key to the Jesuit mission at USF, says Julie Dowd, director of University Ministry.
"The way we express our Catholic identity at USF is inclusive and brings in lots of different points of view," Dowd said. "It's great for these Jesuits to see that and perhaps incorporate some of that into their own style of leadership back home."
Most of the graduate fellows are pursuing master's or doctorate degrees in the School of Education. Several will be starting Jesuit elementary and high schools in their home provinces, and they say they will benefit from a USF education that emphasizes a justice-centered approach to teaching.
USF is the only Jesuit college or university in the nation with this type of Jesuit graduate fellows program.
A New Perspective
USF graduate fellow Barwendé Sané, S.J., who is from Burkina Faso, is pursuing a doctorate in organization and leadership, which he plans to use when he returns home to work in universities. Fr. Sané also works with USF's Lane Center, leading programs that help staff and students understand and connect with Catholic social thought and the Ignatian values.
Fr. Sané, who describes himself as black, African, and Jesuit, says he brings unique perspectives to USF.
"Watching the international media, people are not seeing a lot of positive things from Africa. They're seeing poverty and conflict," Fr. Sané said. "There is a lot of beauty and richness to Africa, and I am willing to share about our customs and traditions. As an African, I bring an understanding of Africans, an understanding of the commonality of all people."
Sharing Ignatian Spirituality
As a resident minister in the Lone Mountain residence hall, Fr. Toppo is available to students, whether they'd like to learn about his native province in northeastern India or mix Ignatian spirituality into their daily lives.
"I'm here with the students in the dorm, asking how they are, assuring them we are here, and supporting them all the time," Fr. Toppo said.
That works for Adam Villarreal '21, who says he appreciates that Fr. Toppo is more involved in the university community.
"We have had many late-night topics of all things faith and issues in the Catholic Church, and he truly embodies the mission of a Catholic priest," said Villarreal.
Fr. Toppo helps lead liturgy every Tuesday at Loyola House and encourages students to participate. He also participates in University Ministry retreats for students and on occasion has celebrated Mass at St. Ignatius Church.
When he's not tending to the spiritual needs of students, Fr. Toppo is a student himself. He's pursuing a doctorate in learning and instruction. Before coming to USF, he taught in India at two Jesuit schools and then taught English to Jesuit seminarians. It was at the seminary that he realized he would like more formal training in how to teach a second language.
It's important that the graduate fellows are integrated throughout all aspects of campus life, Fr. Toppo said. "Our presence gives greater visibility to the Jesuit mission."