Passion for Justice
Educational Talent Search Scholar Receives Peacemaker Award
The Educational Talent Search program at USF provides academic, career, and financial counseling to middle and high school students from disadvantaged backgrounds.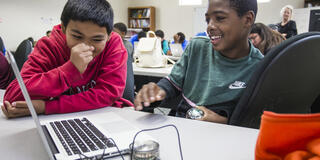 The USF School of Education is excited to celebrate alongside Educational Talent Search Scholar Mina Fa who was the recipient of Community Boards' Gail Sadalla Rising Peacemaker Award. Awarded annually to one student in San Francisco Unified School District (SFUSD), the Rising Peacemaker Award is given to a youth peacemaker who made a positive difference in their school or community by providing anti-violence and empowerment work.
The Educational Talent Search program at the University of San Francisco provides academic, career, and financial counseling to individuals from disadvantaged backgrounds. The program currently serves students at three partner SFUSD schools: Visitacion Valley Middle School, Dr. Martin Luther King Jr. Academic Middle School, and Phillip and Sala Burton Academic High School. The goal of Talent Search is to "increase the number of youth from disadvantaged backgrounds who complete high school and enroll in and complete their postsecondary education." 
Fa was honored at an awards ceremony on June 14, 2019 at the City Club in San Francisco. The award acknowledges Fa's work mediating disputes among her peers and mentoring at-risk students within her school community. During the ceremony, Fa was recognized for going above and beyond for her mentees, often supplying them with clothing and school supplies to boost their confidence and ability to focus on their education.
This work is deeply personal to Fa as she has had to overcome many obstacles relating to her own socioeconomic standing. A child of migrants, Fa knows all too well the struggles low income families face in San Francisco. She says that she hopes to eradicate the stigma of poverty and recognizes that, "adversity does not define you, it actually helps create you." Fa graduated with honors from Phillip and Sala Burton High School and will be continuing her education at San Francisco State University pursuing her bachelor's degree on a full-ride scholarship. 
Each year Educational Talent Search supports 500 students like Fa through on-site financial aid advising and assistance with the postsecondary application process. During the summer of 2019, Educational Talent Search, in partnership with USF's Master of Arts in Teaching Reading program and USF's McCarthy Center's Engage SF Literacy Initiative, offered a weekly robotics workshop to middle schoolers participating in the annual summer reading program from neighboring community programs such as Magic Zone, Booker T. Washington Community Service Center, and Prince Hall Learning Center. "This experience contributed to our twin goals of developing both print and digital literacy through hands-on, real world learning," explained Dr. Helen Maniates, associate professor and coordinator of the MA Teaching Reading program. 
In the coming months, Educational Talent Search will continue to expand its partnership with the USF School of Education. The School Counseling program and Educational Talent Search are collaborating on a pipeline in which several School Counseling program students will work as Educational Talent Search interns for the duration of their academic program.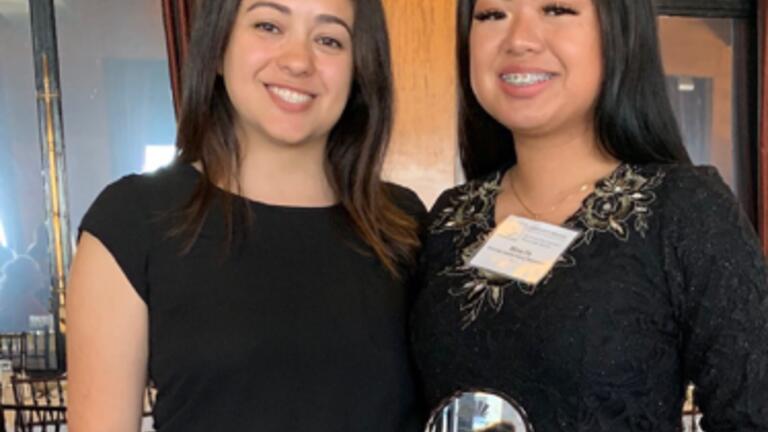 Gracee Anguiano, ETS College Advisor, with award recipient Mina Fa.