Dr. Christine Yeh Delivers Solutions to Educational Inequity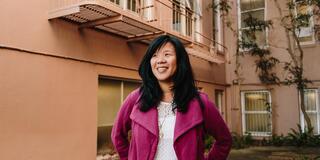 Christine Yeh is a professor of psychology and education in the Department of Counseling Psychology at USF. In the past 10 years, she's led a culturally-responsive curriculum-based program that has helped over thousands of first in the family students gain access to college information and resources.
How did you find yourself in your current role? What drew you to the work that you do?
I was strongly drawn to USF's mission for equity and social justice and I was attracted to the collaborative and visionary leadership of the School of Education. I especially appreciate working in solidarity with local schools and communities for systemic change. USF really values strong community partnerships, especially when fighting and addressing long standing educational injustices.
What inspired "Make It Happen?"
School Counseling graduate students in my introductory counseling practice class noticed that hundreds of students each year were falling through the cracks when it came to college access. They wanted to develop a culturally-responsive, curriculum-based program that could be implemented across public high schools to specifically support students who may not have access to college information.
I soon started bringing my class to a local high school to provide support for personal statements and college applications. Within weeks, we had close to 100 students showing up to meet with us. We then started to partner with experienced school counselors and local school districts to implement the Make It Happen program across 25-35 schools a year.
How have you seen the Make It Happen program enhance college access resources?
The Make It Happen program is aligned with the standards of the American School Counselor Association (ASCA) as well as the school counselor performance expectations of the California Commission of Teacher Credentialing. In the past several years we have supported more than 2,000 students' college knowledge. Since many of our participants are the first in their families to attend college, we wanted to make sure they have the necessary tools to succeed personally and academically in school.
In your researched opinion, what figures in a student's life are critical to their success in higher education?
Students in our college access program often report that support from their family/friends and connections with teachers/counselors greatly helps them with not only applying to college, but also feeling prepared in attending college.
We found that participants really appreciate hearing from other role models in their communities who have attended college. For this reason, we also bring in first-generation college graduate speakers. Students consistently rank hearing from other role models as a major turning point in their belief that they can not only get into college, but that they can succeed when they get there.
Can you tell me something about the advocacy work that you do that you have seen benefit newcomers, first-generation, and under-resourced students?
The Make it Happen Program is really a USF student-inspired and student-led college access program.
The vast majority of USF students in the School Counseling Program are first generation, bilingual, and immigrant students who have shown how their experience and knowledge can transform communities and schools. We have not only seen a dramatic increase in terms of the number of high school students who apply to college but we have also seen how excited they are to be able to make choices about their future trajectories.
How have your goals concerning education changed over the years?
Over the years, I have come to appreciate how much I learn from working closely with community partners and schools. USF is uniquely positioned to support equitable college access because the university's graduate students conduct internships in local schools as part of their degree and credential requirements.
Over the years, this goal to partner with students and schools has definitely increased as I have seen the transformative power of student leadership and community engagement.