Equipped to Lead and Succeed
Challenges and Possibilities for Social Justice Principal Leadership Amidst Twin Pandemics
Transformative School Leadership program, in partnership with principal training programs across California, hosts virtual event for K-12 leaders to reflect on 2020.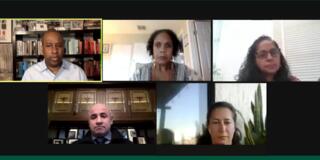 Throughout 2020, K-12 school leaders led their communities through unprecedented and competing challenges.
They worked tirelessly to support their students, families and staff - both at school and at home - while navigating the health and safety implications of the COVID-19 pandemic, the swift move to online learning, the systemic racism and classism in the United States further exposed by the coronavirus, ongoing wildfires, and more.
"These incredible events often were framed as a reckoning, an opportunity to acknowledge the brokenness of the current system and to imagine something new," says Dr. Seenae Chong, assistant professor of leadership studies. "Yet school leaders have precious few opportunities to pause and reflect with their colleagues: What's working? What am I struggling with? What do I want to do differently that will contribute to efforts to challenge the white supremacist foundations of education?"
With this in mind, Chong along with Transformative School leadership program co-directors Dr. Danfeng Koon and Dr. Darrick Smith and School of Education alum Cecelia Jordan MA '19, teamed up with the principal leadership programs at CSU Los Angeles, UCLA, UC Berkeley, and UC Davis, to organize a virtual Imaginar to support K-12 school leaders. "Fostering Critically Humanizing Relationships in a Virtual Space: The Challenges and Possibilities for Social Justice Principal Leadership Amidst Twin Pandemics" was hosted on November 13, 2020 and included over 75 participants.
"The Imaginar was an effort to bring together school leaders from across the state for a time to reflect, listen, and honestly engage with the necessary steps towards more humanizing education," says Chong.
The event opened with Cecelia Jordan's poignant poetry. Dr. Darrick Smith then facilitated a panel discussion focusing on how school leaders are meeting the immediate needs of their school communities, creatively thinking about virtual schooling, and using the pandemic to create racially just schools.
Featured panelists represented the various school principal programs and included Dr. Letitia Johnson-Davis (Baldwin Hills Elementary Pilot, Los Angeles), Neha Ummat (West Oakland Middle School, Oakland), Mauro Bautista (Felicitas & Gonzalo Mendez High School, Los Angeles), and Iracema Hromnik (Seneca Family of Agencies, San Leandro).
Through conversation, panelists reflected on their struggles and hopes during this unprecedented time, the support they were receiving and seeking, and how this year impacted their commitment to advance racial justice in their schools.
A commitment to racial justice is a requirement. It's not an option. It's not a request," shared panelist Iracema Hromnik.
She went on to share that a critical part of racial justice work in schools is changing the school environment itself, making a "commitment to creating spaces for students and staff to heal and to process what is going on."
Imaginar participant and current Transformative School Leadership student Dorothy Glusker '21 said that the "necessity of having difficult discussions on race and social justice in order to move the school community forward," was an important take-away from the panel discussion. "These conversations are not easy to have, but are an absolute necessity to increase equity in our schools," reflects Glusker.
Following the panel discussion, attendees broke into small groups for further dialogue and to provide an opportunity to gain peer support.
This event, spearheaded by Dr. Danfeng Koon, Dr. Seenae Chong, and Cecelia Jordan of Love in Public, was the first event for ongoing collaboration with school leadership programs across California. Visit the Center for Humanizing Education and Research for details about future events.