Campus Life
Using My Voice
Marriage and Family Therapy Student Named 2021 Silicon Valley Next Fellow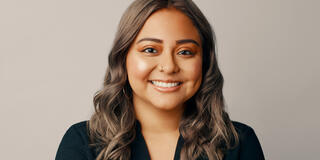 "I never thought you could get paid for doing what you love!"
Jennifer Bautista '22 is Director of Newcomer and Trauma Programs at San Carlos' One Life Counseling Center and is earning her master's in USF's marriage and family therapy program.
In her role, Bautista works with school districts to provide services to students that have recently arrived in the United States. "Together with their school we identify who has experienced trauma and create support groups," explains Bautista. "During group sessions, students learn different coping skills to regulate and identify emotions, to develop new healthy habits, to set goals, to problem solve, to build self confidence, to heal, and more."
Reflecting on what brought her to this work, Bautista credits her family and a special mentor: her high school counselor. "I come from an immigrant family who struggled a lot to make it here to the United States." After years of navigating a new country and culture, and after experiencing the deportation of her father, Bautista says she was in a dark place. "It was hard and what helped me was having a support system and a counselor who believed in me, Mr. Morales at San Mateo High School. He helped me overcome my traumatic experiences. I wanted to become that person who made a difference in someone else's life."
Bautista was inspired to pursue USF's marriage and family therapy program. "USF has played a huge role in who I am today. I joined USF because of its mission and I took it to heart. The [MFT] program has helped me find my voice to advocate for my community. USF has taught me not to stay silent."
Bautista's commitment to being a voice for her community has not gone unnoticed. She was recently named a Silicon Valley Next 2021 Fellow. The fellowship, hosted by the Center for Excellence in Nonprofits, is a year-long coaching and peer support leadership program that nurtures future leaders for Bay Area nonprofits. "I'm learning how to run an organization, to problem-solve, to reflect on my own experience, and to develop skills to balance work with self-care," says Bautista.
As part of the fellowship, participants identify a project and receive collaborative support to complete the project. Bautista plans to expand the educational opportunities One Life Counseling Center offers to families, a need she says became clear during the coronavirus pandemic. "Since the pandemic...I have seen an increase in depression, anxiety, low self-esteem, low-self worth and loneliness in our clients. Our program has allowed us to have continuous virtual support by our clinicians and peer counselors." A benefit of virtual sessions was the increased interaction with students' families. "I realized the value of providing education and resources to families as a whole, beyond working just with the kids."
As Bautista moves forward in her fellowship and the MFT program, she hopes that others will follow her example and pursue their dreams. "Mi gente, do not give up. Latinas/Latinos, let's rise together. Let's encourage and motivate one another. If you are out there wondering about your ability to accomplish your dreams, do not doubt yourself! Push yourself and continue to dream. As a Latina and a person of color, I never thought I would be in a master's program, but here I am."
Bautista wishes to share a special message of gratitude to those that have supported her throughout her journey: Thank you so much, Dad and Mom, for the sacrifices you encountered to give me a better life. Thank you to my older brother and sister for continuously motivating me and for believing in my goals and dreams. Thank you to my nieces who inspire me to be creative. Thank you to my boyfriend who has been my rock and always reminds me to take time for myself. Thank you, God, for giving me the strength to continue my journey. Thank you, USF, for building a better leader in me."