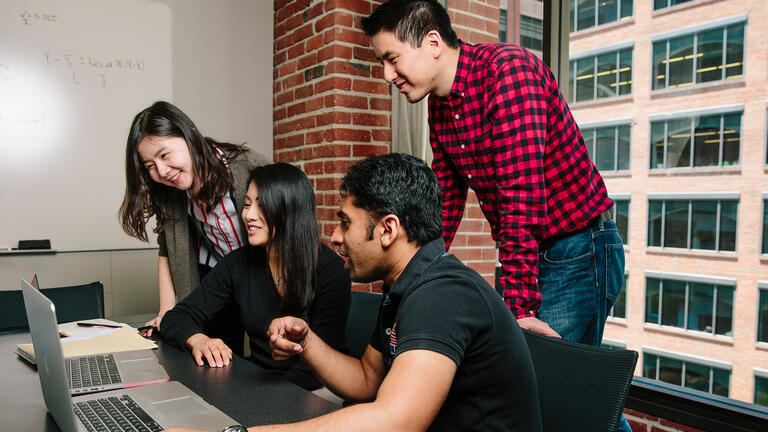 Data Science, MS
Program Overview
The Master of Science in Data Science (MSDS) is a full-time, one-year program housed at USF's downtown San Francisco campus. The 35-unit program begins in early July every year and features a modern, open-source-focused curriculum for students who seek the technical expertise required to become data scientists and analysts, and the business skills to apply this knowledge effectively and strategically.
Data Science Boot Camp
The program begins with our boot camp, an intensive review of the foundational knowledge and skills required for success in the MSDS program. Students complete accelerated review courses in probability & statistics and computation for analytics and also must pass a linear algebra competency exam in order to move forward in the program. Additionally, all students take a course in exploratory data analysis & visualization for a total of three courses and one linear algebra exam in the introductory summer semester.
Nine Month Internship
Internship projects allow students to work for 15 hours per week for nine months tackling data science problems at organizations in the San Francisco Bay Area and beyond. All students are guaranteed an internship placement.
Amazon Web Services Partnership
The Master of Science in Data Science is proud to have our students develop software and run analyses on Amazon Web Services. Through a new partnership with AWS Educate and USF's Data Institute, each student receives significant support in the form of credits to gain crucial familiarity and experience across their suite of technologies, including RedShift and EC2.
Class Schedule
Classes are held Monday through Friday during the day, with four classes running simultaneously each module (half a semester). Two days per week are devoted to internship work, which begins in mid-October. Students take classes together as a cohort and most classes are split into two sections to keep class sizes small.
Application Development
Machine Learning
Statistical Modeling
Natural Language Processing
Business Strategy
Design of Experiments
Distributed Computing
Deep Learning
Data Visualization
Business Communication