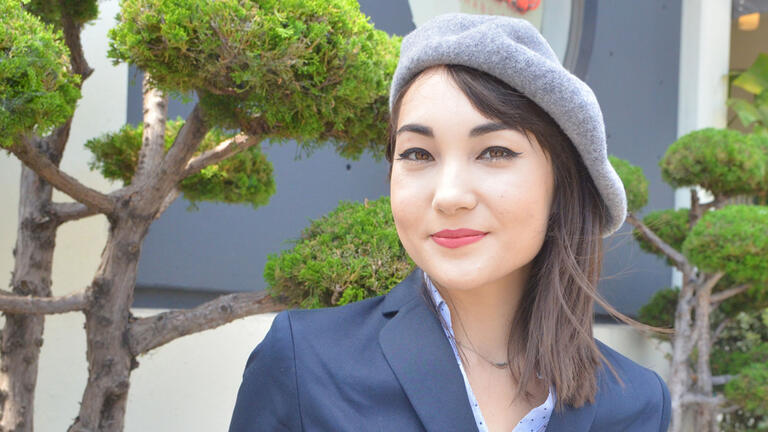 Cultural Immersion
A Tour of Japan Inspired Her to Work Abroad
As a Japanese American who spent much of her childhood in Malaysia, Jaclyn Knitter has always had an interest in the Asia Pacific region. But it wasn't until starting at USF as an undergrad that she considered pursuing a degree in it.
During her sophomore year, Jaclyn had the opportunity to work as a research assistant for a professor studying sociolinguistics in the Master's in Asia Pacific Studies program (MAPS). The experience made her realize the opportunities afforded by the MAPS program to study sociolinguistics more deeply as well as the region she was so interested in. So she applied to the program, got in, and immediately fell in love with her classes.
"I gained a considerable amount of in-depth knowledge about the historical contexts that have shaped Japan and the Asia Pacific region — everything from art and philosophy, to social movements and military history," she said. "I learned more about my family's connection to these histories, as well, in our Research Methods course on Japanese American incarceration during WWII."
Falling in Love with Japan
Even better than classroom discussions were the ample opportunities the program offered for immersion in Asian Pacific culture. A standout experience was the Kakehashi Project, a week-long tour of Japan sponsored by the Japanese Ministry of Foreign Affairs.
"This tour brought me, two dozen of my classmates, and my professors to Japan to experience firsthand the phenomena we were studying," Jaclyn said. "This once-in-a-lifetime opportunity instilled in me a sense of deep gratitude and an appetite for new challenges."
During the tour, she visited Tokyo, Kobe, and Nara. She got to meet senior officials from both the Ministry of Foreign Affairs and the Japan External Trade Organization, visit a Shinto shrine for a 13th century samurai warrior, admire the Great Buddha at Tōdaiji temple, and much, much more.
She enjoyed her experience in Japan so much that she was inspired to move there after graduation. Now, she's in Kumamoto City teaching English to children and their parents through the Amity Corporation — a job she loves.
"Children have a lot to teach us about language acquisition, plus they are really amazing students to work with."
Working alongside experienced local teachers is also helping her learn Japanese business etiquette and strengthening her command of the language.
She's grateful to all of her professors at USF for helping her along her journey, from supporting her professional and scholastic development, to encouraging her creativity and personal growth. She's particularly grateful to Professors Genevieve Leung and David Kim for providing her letters of recommendation and Father Antoni Ucerler and Prof. John Nelson for supporting her career.
"There is nowhere else I would rather have earned my education," she said. "The MAPS program and USF as an institution instilled in me a valuable dose of critical mindedness and respect for myself and my global community. In Japan, I continue to be aided by the intellectual, linguistic, and cultural capital I gained."