Engaged Learning
Japan Tour Brings Classroom Lessons to Life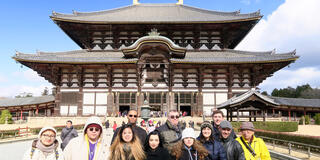 Recently, students and faculty from the Master's in Asia Pacific Studies (MAPS) program flew to Japan for a weeklong study tour. Twenty-one students traveled with Program Directors and Professors John Nelson and Brian Komei Dempster to experience first-hand the rich culture they'd learned so much about in their classes.
"There's nothing like first-hand participant observation — what might also be called 'experiential learning' — to make a culture and its people come alive," Professor Nelson said.
The trip was part of the Kakehashi Project, a youth exchange program sponsored by Japan's Ministry of Foreign Affairs. MAPS students and others who participate get to learn about Japanese business, trade, history, culture, and policy up close. But one of the most distinguishing aspects of the program is that it's fully funded — airfare, lodging meals, ground transportation, and all other trip expenses are completely covered by the Ministry.
As someone who'd dreamed of visiting Japan ever since he was a kid, MAPS student Nolan Smash MA '18 was deeply grateful for the opportunity to travel with the program.
"This experience went above and beyond my wildest imaginings, not only because of my love for Japanese culture, but also because I realized how much about Japan I didn't know," he said. "The eight days I spent there further fueled my desire to live in Japan, and my hope is that the MAPS program will prepare me for a lifelong career of engagement with Japan."
Nolan and his fellow students toured several Japanese cities, including Tokyo, Kobe, and Nara. They got to meet senior officials from both the Ministry of Foreign Affairs and the Japan External Trade Organization, who briefed the students on U.S.-Japan trade, regional trade, the missed opportunity in the Trans Pacific Partnership, and much more.
Another student in the program, Justin McDonnell MA '18, said he was inspired and humbled by the people he met on their trip.
"Whether we were in bustling Tokyo, Osaka, or in the outer reaches of Kobe city, I noticed a kind of personal investment and social obligation that people make toward work, which seems to create this strong sense of community and value," he said. "Now that I'm back at USF, I'm re-evaluating ways to integrate the inner world of Japanese thought and cultural history into my course of study and research."
Immersed in Japanese Culture
Trip organizers from the Japan International Cooperation Center ensured that the schedule was chockful of cultural activities and events to maximize students' learning opportunities. They visited a Shinto shrine for a 13th century samurai warrior; traveled to a hot spring resort in the mountains where they met a master basket-weaver; admired the Great Buddha at Tōdaiji temple; enjoyed an evening in a traditional Japanese inn; and even toured a sake brewery.
Despite the busy schedule, Prof. Nelson said that students also had the opportunity to explore social, political, and economic complexities on their own. And he made sure there was room for a lot of fun too.
"At the end of the day's schedule, most would head out into the night to explore and have adventures on their own," he said. "Whether in trains, stores, bars, or on the street, these experiences with a range of Japanese people were just as valuable and memorable as official briefings."
Natalie Nguyen MA '19 said the trip offered an amazing opportunity and an even greater experience. "I definitely enjoyed being immersed in the culture of Japanese temples and shrines as well as the bright lights of Tokyo. I feel like I was able to connect what I've learned about Japanese history and culture with modern Japan — and it's an enlightening feeling."
To learn more about the Japan study tour, read a report by MAPS students at the Japanese Consulate's website.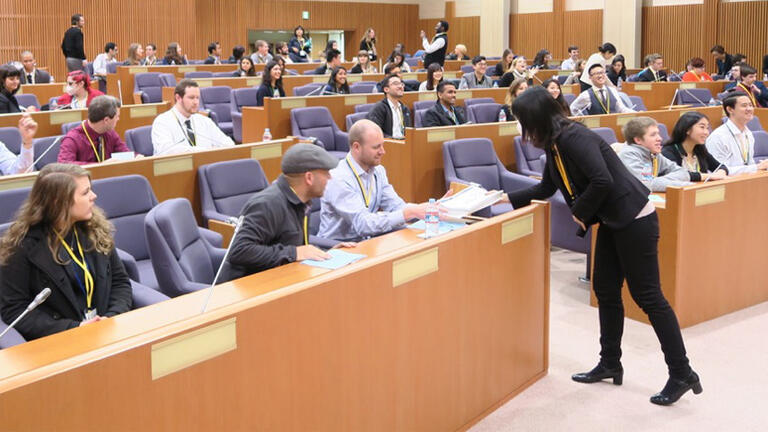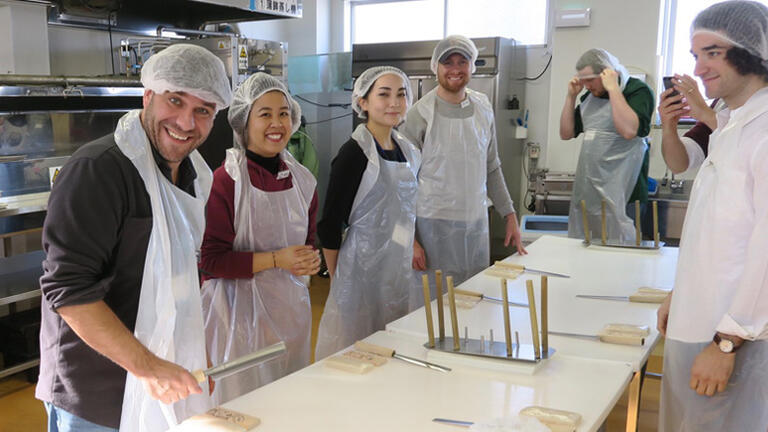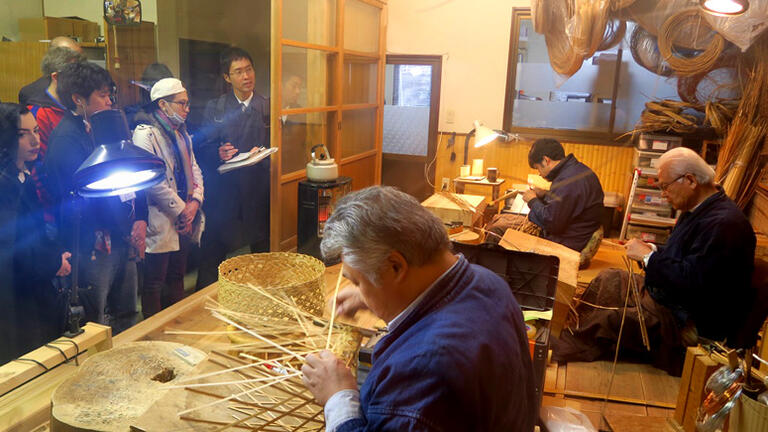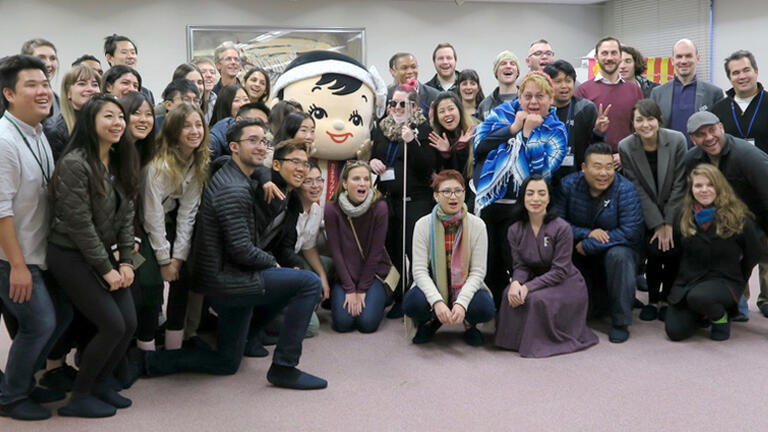 Opening briefing for Kakehashi Program Participants at the Ministry of Foreign Affairs, Tokyo.
MAPS students engage in a hands-on "lab" for making fish paste products at Kanetomo Corporation in Kobe.
Three generations of master basket makers at Arima Hot Springs, Kobe.
MAPS students (right) with Berkeley group at Kanetomo Corporation, Kobe.