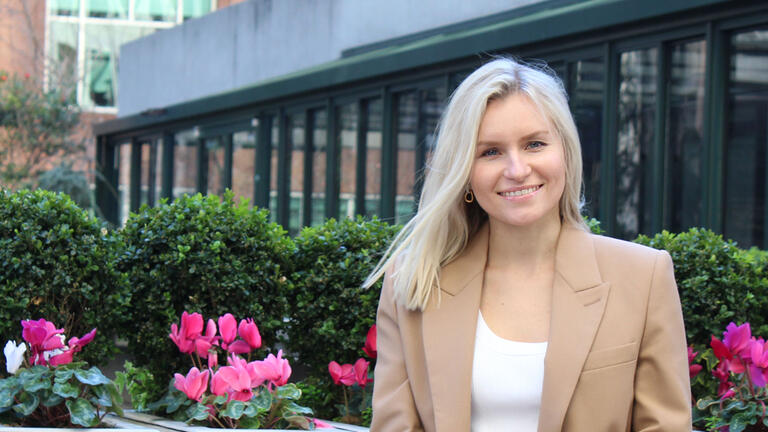 From Beijing to the Bay
Asia Pacific Studies Means Business
In 2007, quickly developing relations between Belarus and China inspired Karina Salomatina '18 to enroll in the Chinese Language and Literature Program at Belarusian State University. After two years, she transferred to Beijing Foreign Studies University and moved to China, where she received a Bachelor's Degree in Chinese Language with an Economics and Trade Specialty.
After graduating Karina worked as a Chinese-Russian-English translator, but she always felt the need to do more than translation. In order to get a deeper understanding of China and its connection to the rest of the world, Karina applied to USF's MA in Asia Pacific Studies (MAPS). The interdisciplinary nature of the program helped her to explore and identify her areas of interest and direction for further professional development. She now works as a Global Marketing Coordinator at the Bay Area Council, a business-sponsored, public-policy advocacy organization.
Tell me about your role at the Council?
In June 2018, Professor Stanley Kwong recommended me to the Bay Area Council Global Initiatives team and I started there as a Research and Marketing Intern in the Global Initiatives department. By October 2018, I was offered the position of Global Marketing Coordinator. The Department works primarily with China, providing services to facilitate cross-border investment and expansion. Those services include introduction to key government officials and business leaders, negotiation of special policies, business development, planning delegation trips and networking events. I create marketing materials for our projects, conduct outbound email campaigns, list, track and coordinate all events and activities.
How does the research you conducted in the MAPS program inform your work?
All of my research papers and projects covered various social, business, economic, and cultural issues in China. I conducted research on China's one-child policy, the problem of the middle-income trap, the impact of air pollution on tourism in China, and Huawei's global expansion strategy. I am especially proud of my paper about the "leftover women" phenomenon, which I also presented on the SPAS Graduate Student Conference in Honolulu in 2017. For my Capstone project, I investigated new spending habits of Chinese elites.
How did your studies at USF prepare you for your career?
I was very lucky to have brilliant professors and classmates, whose support constantly inspired and motivated me to challenge myself and achieve more. Taking into account that English is my second language, I improved my writing and research skills. Moreover, I developed a set of skills that helps me in my daily work. I learned communication skills, how to work in a team, and manage my time effectively.
Steve Jobs once said: "You can't connect the dots looking forward; you can only connect them looking backwards. So you have to trust that the dots will somehow connect in your future." I realize that all my dots – studying Chinese, living in Beijing, working as a translator, moving to San Francisco, and receiving a Master's degree at USF – have perfectly connected into a path that brought me to the Bay Area Council.