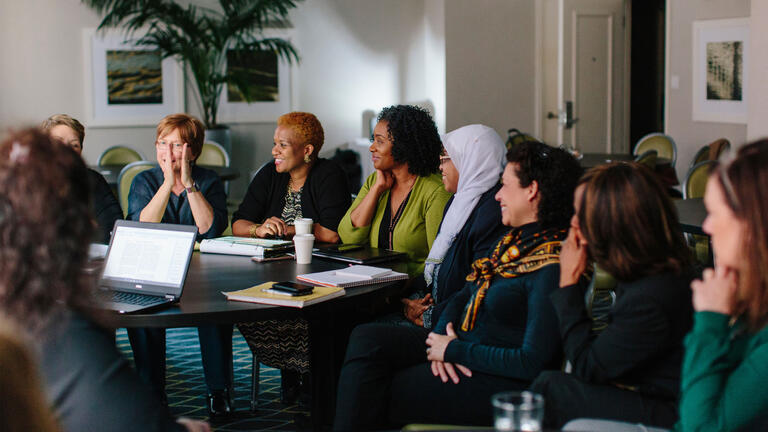 Population Health Leadership, DNP
Program Overview
The Population Health Leadership DNP plan of study prepares students to become leaders of interprofessional healthcare teams that deliver clinical prevention and population health services.
Graduates of this program will promote health and treat and prevent disease and injury for individuals and populations while being advocates for environmental and social justice in the healthcare system.
Program Delivery
The Population Health Leadership DNP program is seven (7) semesters consisting of online and classroom learning during fall, spring, and summer. This plan of study includes 33 didactic credits plus variable practicum credits. Didactic plus practicum credits range from 45-56 credits.
Courses are delivered online with an in-person, on campus teaching weekend the first Friday/Saturday in August. Online learning will be asynchronous. Faculty will determine the scheduling of the synchronous teaching weekends.Online coursework uses the University's learning management system, Canvas. In addition, students are often able to attend classes by use of a video conferencing tool.
Projects & Publications
All Doctor of Nursing Practice (DNP) students must implement an evidence-based project designed to improve practice. The project is guided by their faculty DNP Committee Chairperson and Committee and demonstrates their ability to apply the principles of evidence-based practice, through problem identification, project development and proposal, and the implementation and evaluation of practice, quality/process or systems improvements.
For questions about the presentations, please contact sonhpgradnursingteam@usfca.edu.
Practicum Hours
DNP students must complete a total of 1,000 hours of supervised clinical practice through practicum courses during the program. You are eligible to transfer in up to 500 practicum hours from approved master's level practicum coursework. Practicum work to fulfill the clinical practice requirement can be completed in your work setting or alternative placements. Practicum courses will allow students to operationalize advanced nursing roles specific to direct care or indirect care. Each student will be assigned an adviser/chairperson that will help to facilitate student progress throughout the course of study.
The final semester consists of a DNP Residency immersion experience and completion of a comprehensive evidence-based project that demonstrates achievement of program learning outcomes.
Sample practicum work may include the following
Partner with community organizations to promote the health of high risk populations and address screening or health education processes
Collaborate with private sector companies to design health and wellness programs
Design and implement wellness/health programs for private business or health care systems
Manage patient populations within primary care settings (direct care provider or coordination of care transitions)
Manage systems for coordination of care throughout the continuum
Coordinate patient transitions within acute care and community care settings
Additional Certificate
Students who wish to specialize as Family Nurse Practitioners (FNPs) or Psychiatric Mental Health Practitioners (PMHNP) may complete FNP or PMHNP Certificate requirements in addition to the Population Health Leadership DNP option.