Research
Addressing Real World Issues in Public Health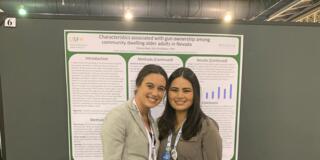 Born and raised in Hawaii, Shaina Alves '19 found her calling after working for two years at Christ House, a DC-based organization that provides healthcare services to homeless men. Passionate about solving homelessness and housing policy, she enrolled in USF's public health program (MPH).
Reid Whaley '19 had a similar passion for changing the world around her. The California native grew up in Sonoma County and was always drawn to the multidisciplinary nature of public health and its role in shaping people and environments. This interest led her to the public health program as well.
"Once I got to the MPH program, it finally clicked — I was learning about something with the opportunity to apply tools and techniques to issues that mattered to me," said Reid.
Both students soon discovered their passion for research and enjoyed the program's emphasis on tying coursework to real-world learning. With guidance from Dr. Erin Grinshteyn, Reid and Shaina are now proud authors of their own research studies, which they presented at the annual 2019 American Public Health Association APHA conference.
"The experience really enabled me to apply what I learned. I was able to write, create data graphics, and present my own work. It has been an amazing opportunity to work with Professor Grinshteyn," said Shaina.
"Professor Grinshteyn is doing groundbreaking work that is both timely and relevant. Our weekly meetings allowed us to discuss the project's progress and contribution to the field; she is absolutely one of the kindest and most caring supervisors I've ever had. I count myself really lucky to have been able to work with amazing scholars over the course of my education," said Reid.
Leading relevant research
Reid's research focuses on population-based health disparities associated with fear and anxiety. Her research revealed that variables such as citizenship and sexual orientation led to heightened fear and anxiety and decreased mental well-being in sampled populations.
"Mental distress is one of the biggest predictors of health issues and fear is something that is greatly overlooked. It's an issue we need to talk about more as it is currently a muted determinant of so many adverse health and socio-economic issues."
Shaina's research examined the characteristics associated with gun ownership among older adults in Nevada.

"I decided to focus on older adults as little is known about the characteristics of these households. Firearm suicide rates are the highest among adults aged 65 and older in the US, and households with guns may be at greater risk of harm. This is why learning about this demographic is so important and necessary, and I want to raise awareness about this issue and set the groundwork for further research."
Taking the first step in research
Fresh from their first research experience, Reid and Shaina shared advice for those who are also considering whether to enter research.
"Don't be discouraged if things don't go right the first time, it's a lot of trial and error, especially down the road if you decide to pursue a research career. It's normal to feel frustrated if you don't know how to do certain things — everyone starts somewhere." said Shaina.
"I would encourage anyone who is interested in research to pursue a project. You never know what your passion project is going to be. If you see something interesting, dive in. Never underestimate the power of connecting with brilliant minds. My career interests and life switched 180 degrees during my time at USF, and I couldn't be more grateful," said Reid.
Staying true to its mission to link classroom, clinical and field experiences with expectations for competence, compassion, and justice in health care, SONHP is proud to practice a culture of finding opportunities to address real-world issues.