Research
Understanding The Roots and Impact of Fear
MPH professor Dr. Grinshteyn studies the underpinnings of fear and its impact on public health.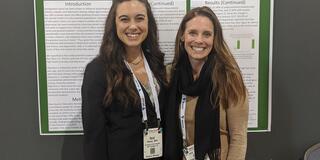 The guiding principle around Dr. Grinshteyn's work has always been to understand the world around her.
Currently, in her fourth year at USF, Dr. Grinshteyn has engaged in numerous research projects to do just that. Her current focus: understanding the link between fear and violence.
Having worked broadly in violence prevention — encompassing areas of intimate partner violence, behavioral health concerns, and trauma history — she began cultivating an interest in understanding the underpinnings of fear in order to shape discussions around improving public health.

"A person does not need to directly experience violence to be affected by all of its negative consequences. Fear and violence are common themes in criminology studies but not in public health," says Grinshteyn.
In collaboration with other faculty and students, Dr. Grinshteyn hopes to change the narrative and guide discussions around fear, violence, and public health.
As part of her work, she has researched and presented on topics such as the association between fear of violent crime and anxiety and depression among university students; fear of bullying among university students without residency status; and racial differences in the correlates of gun-carrying among US high school students, which led her to discover that the fear of crime and other social concerns affect everything from substance abuse and mental health issues to physical concerns like mortality rates.
"Fear is a unique concept; it is as universal as it is unspoken. For many, fear is a sensitive issue, especially if it [affects] health outcomes."
Besides addressing pertinent issues related to fear and violence, Dr. Grinshteyn's research utilizes quantitative analyses to provide evidence-based solutions that inform future research.
"Data collection and analysis is generally expensive and time-consuming, but research is very collaborative, especially in public health, where it is inherently interdisciplinary. Working with others makes the journey less daunting."
Dr. Grinshteyn's research continues to highlight understudied issues like fear and violence which are essential to understand when it comes to shaping the future of public health.
"There are many ways to leverage our existing infrastructure to deal with fear and violence, especially among vulnerable populations. I want to advance this knowledge and start conversations around these issues."