Research
Be A Thoughtful Leader
Capstone Award Winner Ellen Pelos (Class of 2020)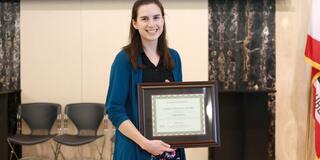 Ellen Pelos had a unique introduction to the world of healthcare — music.
The former psychology and music dual major studied the effects of music on brain activity in school, which ultimately fueled her interest in healthcare, specifically behavioral health and nutrition. For the Minnesota native, summers in college were exploratory times. She worked with kids in special education, did a music therapy internship, and embarked on a pre-med course. But the experience that had the most profound impact was her work as a volunteer at the Second Harvest food bank in Silicon Valley.

"As a volunteer, I managed and evaluated the food pharmacy program [a partnership between Samaritan House and Second Harvest]. It was there that I realized my passion was nutrition and health, so I jumped in and made it my mission."
Making Changes
Ellen started reading about nutrition and health and became fascinated by the facts. One fact, in particular, drew her attention.
"I was surprised to learn that chronic disease rates continue to rise every year despite more technological and medical expertise, and I wanted to know why."

She got answers to her question at Samaritan House in San Mateo, a partner of Second Harvest and a non-profit organization that provides food and shelter services to low-income communities. Through interactions with patients diagnosed with Type II diabetes, Ellen learned that creating behavioral change can be a complicated process and that preventative care is often the best approach to lowering chronic disease rates.

Ellen found significant evidence pointing to the benefits of plant-based diets, including the ability to manage and reverse the effects of early Type II Diabetes, so she decided to do something with that information — she created "Project Plant-Powered," a digital plant-based nutrition intervention for low-income patients with Type II Diabetes.
She ran six focus groups with clients from the food pharmacy to learn about their nutrition and health opinions — particularly toward plant-based diets. The reception was positive and there was a high demand for information and resources, which led Ellen to create an informative website about plant-based diets that addressed questions and concerns raised during her research. Participants of the food pharmacy program found the platform helpful in expanding their support network and incorporating plant-based diets into their lifestyles.
Looking Forward
On track to graduate in 2020, Ellen wants to use her remaining time in school to explore the industry in-depth and fine-tune her project.
Ellen is currently working to gather more patient feedback in order to roll out a more comprehensive web platform. Citing project sustainability as one of her biggest goals, Ellen is now helping Samaritan House develop a food pharmacy manager role to continue the project long term.
Her advice for fellow students? Follow your passion but also pause to think, assess, and evaluate.
"Think about the issues you are most passionate about and the areas that you can tap into to make the biggest impact. The organization 80,000 Hours utilizes an evidence-based model to help people evaluate their impact through their careers. Thoughtful leadership means analyzing situations from different angles. "