Engaged Learning
Trump 101
Student-created podcast explores the impact of Trump on campus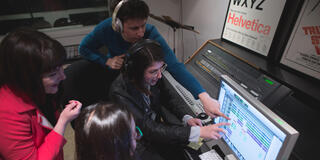 When President Donald Trump was elected, Ali DeFazio '18 knew that things would change — not just in the halls of power in Washington, D.C., but for the students she sat next to in class. Suddenly the future was far more uncertain for undocumented students, LGBT students, and others.
As a student journalist, she wanted to capture those stories. That's how the podcast Trump 101 was created.
Immigration and discrimination
Produced by politics major DeFazio, media studies alumna Katie Ward '17, politics major Gabriel Greschler '19, and media studies major Racquel Gonzales '17, the podcast aims to examine the impact of the Trump presidency on college campuses, starting with USF. The podcasting team says their mission is to "show the personal side of those affected by President Trump — for better or worse."
One episode is about an undocumented student who is unsure what will happen if the Trump administration retracts former President Barack Obama's executive order that allows people brought here by their parents as children to stay, under certain terms. In another episode, a USF student who supported Trump spoke about how he felt discriminated against after he announced his conservative opinions at an open mic night on campus.
The team drew on skills learned in their journalism classes, audio production classes, and from their experience working at the San Francisco Foghorn.
"Learning the skills from Professor Beth Hoffman's audio production classes really helped me contribute," says Gonzales, who spent more than 20 hours per episode sound editing.
USFers Mustafa Çak '19 and Tin Dinh '18 also worked on the podcast: marketing major Çak shot a promotional video, and design major Dinh created graphics for Trump 101's website.
A class at the Washington Post
DeFazio was inspired to start the podcast while spending the semester in Washington, D.C. as part of the USF in DC program. While taking a class on how to cover politics at the Washington Post, she mentioned her love of podcasts to editor Carlos Lozada.
"He told me that the way people digest news is changing quickly, and that agencies like the Post and The New York Times are always trying to keep up," she says. "That's when I began to see that reporters and journalists don't only have to work within a text medium."
Internships with public radio
Greschler, DeFazio, and Ward — all former Foghorn editors — took turns hosting the podcast. Ward, who graduated in May, is now a production assistant for celebrity and entertainment news site TMZ.
Greschler says hosting made him a better interviewer and listener. He and Gonzales both landed summer news internships at San Francisco public radio station KALW, where they fact check, conduct pre-interviews with guests, and report and produce their own stories. The three returning students plan on continuing the podcast in the fall.
Know someone with a powerful USF story? Let us know! usfnews@usfca.edu | Twitter @usfcanews