Research
The School of Nursing and Health Professions Launches New Public Health Applied Epidemiology and Population Health Methods Concentration
Image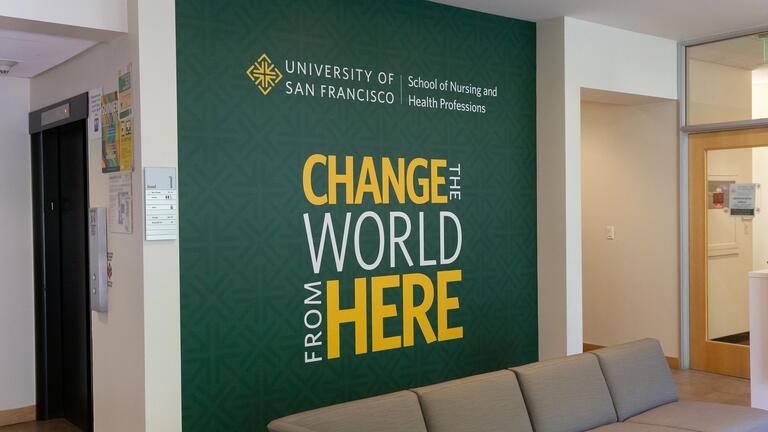 SAN FRANCISCO (May 10, 2022) – The School of Nursing and Health Professions (SONHP) at the University of San Francisco (USF) has announced a new Public Health Applied Epidemiology and Population Health Methods Concentration (AEPH) as a response to demand for epidemiologists in the U.S. The goal of the new AEPH concentration is to support a workforce who is ready to meet the public health challenges of today and tomorrow.
"The need for epidemiologists has reached a critical point, and USF is responding to the need, leveraging its faculty expertise and experience," said Dr. Patricia Pearce, SONHP interim dean.
There currently is a shortage of epidemiologists in the U.S., and the demand for epidemiologists is projected to increase 30% through 2030 (U.S. Bureau of Labor Statistics). The COVID-19 pandemic contributed to an increase in demand for epidemiologists who can identify and mitigate the impact of diseases, as well as support prevention and control of new and emerging diseases.
This new AEPH concentration will educate professionals who can apply methodological training in epidemiology, biostatistics, and research methods through a social justice lens with a focus on reducing health disparities, promoting health equity, and improving population health, especially among historically and systemically disadvantaged communities.
"The world has never needed epidemiologists more than it does right now," said USF's Dr. Annette Regan, a perinatal and pediatric infectious disease epidemiologist with over 16 years of experience leading epidemiologic surveillance and research for government agencies, including the Centers for Disease Control and Prevention, and private research institutions and universities. "This new concentration is going to give future epidemiologists the tools to tackle real world health problems in the community."
"The need is clear for trained health equity and health justice-oriented epidemiologists who have the knowledge and skills to effectively address emerging and pre-existing community health issues," stated Associate Dean for Health Professions and Associate Professor Megan G. O'Banion, PsyD. "Our new concentration focuses on impact through a hands-on applied perspective in the classroom and in the field throughout the degree program."
This two-year hybrid (in-person and online instruction) program will provide hands-on training in public health surveillance, outbreak investigation, geographic information system (GIS), and other innovative epidemiology tools. Applications are being accepted now for Fall 2022. For more program details, contact Dr. Annette Regan at akregan@usfca.edu.
---
About the USF School of Nursing and Health Professions
The School of Nursing and Health Professions advances the mission of the university by leading in innovative solutions to health inequities and transforming healthcare using evidence-informed approaches. For more information, visit our website.
About the University of San Francisco
The University of San Francisco is a private, Jesuit Catholic university that reflects the diversity, optimism, and opportunities of the city that surrounds it. USF offers more than 230 undergraduate, graduate, professional, and certificate programs in the arts and sciences, business, law, education, and nursing and health professions. At USF, each course is an intimate learning community in which top professors encourage students to turn learning into positive action, so the students graduate equipped to do well in the world — and inspired to change it for the better. For more information, visit usfca.edu.