Equipped to Lead and Succeed
Summer Offers College Preparation & Adventure to Upward Bound Math & Science Students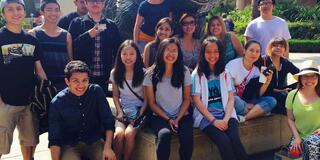 It was a 6 week emotional roller coaster, an exhilarating thrill ride, where students were engulfed in a lifetime of memories. I'm not referring to the latest summer blockbuster, I'm talking about the 2015 Upward Bound Math and Science Summer Program. 
It all began with a heart-felt farewell to long time program director, Janice Dirden-Cook. After 39 years of dedicated service to thousands of students and families across San Francisco, Ms. Dirden-Cook was honored during the Class of 2015 Graduation Ceremony held at Xavier Hall. Upward Bound students, alumni, family, friends former and current staff all gathered to celebrate a lifetime of achievement and commitment, the likes of which are increasingly rare in today's atmosphere of routine change. Notable guests that joined the celebration included School of Education Dean Kevin Kumashiro and Associate Dean Elena Flores. The proud UBMS Class of 2015 took the stage to accept their program certificates as Janice oversaw her last group of graduates. Graduates Jabari Spikes and Hanan Sinada delivered the keynote address for the Class of 2015.
From there, the UBMS team was off and running with the start of the Summer Residential Program. Upward Bound students participated in Forensic Science, Ecology, Digital Story Telling, Calculus, and Computer Science. Students explored and built skills to pursue careers in forensic entomology, ornithology, and computer programming. The afternoon sessions had no shortage of professional STEM exposure with guest appearances from research scientists, crime scene investigators, emergency responders and educators. Students were introduced not only to career possibilities, but real life journeys as our presenters shared their skills and experiences. Adventures throughout the city were an integral part of the summer experience. Students overcame fear during the ropes challenge at Fort Miley.  
In between classes, workshops and seminars, students and staff traversed the City on Muni buses to explore at the Aquarium of the Bay. Students also observed at the Conservatory of Flowers, kayaked at Lake Merced, and researched recycling at Recology. Student's college experience was deepened through living on campus in Phelan Hall. Our residential students enjoyed dorm life utilizing Koret facilities and the computer lab to draft personal statements for their college applications.
The Class of 2016 set off for their Southern California College Tour visiting the University of California, Los Angeles, California State University, Northridge, and California State University, Los Angeles. During this time in early July, UBMS continued to offer a special two-week Summer Intensive program designed for Rising 9th and 10th graders. These new students took courses to build algebra and writing skills. They explored identity and social justice through art.  The new program culminated with a college tour at the University of California, Berkeley and a backpack full of supplies.
During the summer program, our staff and students are introduced to many new faces, among them, USF staff and faculty. This year, Dr. Flores (Associate Dean, School of Education) welcomed summer staff at the staff training. Leyla Pérez-Gualdrón (Assistant Professor, Counseling Psychology) and Patrick Camangian (Associate Professor, Teacher Education) from the School of Education provided professional development sessions for our young staff, captivating them with strategies to engage our high school students. The USF partnership continued throughout the summer as Alejandro Covarrubias and Erin Echols from the Intercultural Center led our students through a creative engineering and technology workshop. Rick Ayers (Assistant Professor, Teacher Education) combined art, poetry, and activism with his calligraphy/ painting workshop. "College Going Culture" was not just a phrase this summer, it was a way of life for Upward Bound Math and Science students here at USF.
With a successful summer in our wake, the UBMS team turns, head first, toward the Fall wind.  We are recruiting new students and preparing current students for a successful school year.  As we look ahead, we see our gold anniversary on the horizon. 2016 will mark 50 years of Upward Bound at the University of San Francisco. Stay tuned for more good news coming soon!