Passion for Justice
Mental Health Talent Pipeline Project
The Healthcare Foundation of Northern Sonoma County supports bilingual bicultural Spanish speaking students at USF to become mental health professionals working in Northern Sonoma County.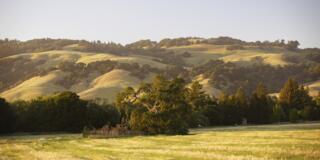 As a Sonoma County native, Luigi Valencia MFT '18 entered the field of counseling to make an impact in the place he calls home. "In order to make change," he says "you've got to start in your own backyard."
A graduate of USF's master's in counseling psychology marriage and family therapy program in Santa Rosa, Valencia is a bilingual, bicultural Spanish-speaking therapist committed to providing bilingual services to communities often excluded from accessing mental health resources. Following this commitment led Valencia to work at a nonprofit that offers low or no-fee therapy services. But, says Valencia, working for a nonprofit and providing the services he is committed to providing, would not have been possible without the Mental Health Talent Pipeline Project (MHTPP). Offered by the Healthcare Foundation of Northern Sonoma County, MHTPP provides financial support to train and retain bilingual, bicultural mental health professionals to work in Northern Sonoma County clinics, schools or nonprofit organizations.
The combination of personal living expenses and student debt often means that individuals beginning their careers as therapists cannot afford to work in nonprofit environments where pay is typically less when compared to private settings. For Valencia, MHTPP's financial support has allowed him to pursue the work he wants to do. "It encourages you to stay with populations that are underserved — no-fee paying clients, family services," says Valencia. "It has allowed me to harbor long term relationships in this community."
The Healthcare Foundation has a long history of providing grants to local clinics to provide services for individuals that are uninsured or underinsured, explains Debbie Mason, CEO of the Healthcare Foundation. "Northern Sonoma County has a higher percentage than the rest of the county of Spanish primary-language Latinx families and, in listening to our partners, we learned that there was a shortage of mental health professionals that were bilingual and bicultural." MHTPP was established to address this need. Participants receive financial support during their graduate program, their post-graduate traineeship, and beyond.
Valencia was the first participant of MHTPP and, says Mason, was instrumental in providing insight and feedback that has helped to develop the program. Today, there are five current participants with seven participants preparing to join in the months to come. "That's twelve professionals dedicated primarily to the mental health needs of the Latinx community and school-based populations in Northern Sonoma County," says Mason. "That's thousands of patients that will now have care."
Learn more about the work of the Healthcare Foundation of Northern Sonoma County »