Equipped to Lead and Succeed
Meet Metyia Phillips '23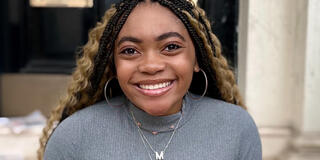 The politics major talks about her internships, the school-to-prison pipeline, and how the Obamas inspired her to go to law school. 
What drew you to politics? 
That's always been the major I knew I wanted to pursue because I'm going to law school, so it's just like a good segue. 
Are there other people in your family who are involved in politics or law? What made you want to go into law?
No, I'm actually a first-generation college student. I wanted to be a lawyer ever since I was seven, when I learned that the Obamas were lawyers.
How did you first learn about the McCarthy Center and the McCarthy Fellows in San Francisco program?
When I was a freshman, I started tutoring through Engage Literacy, which is a part of the McCarthy Center. I've done most of the [McCarthy] programs after that.
Where have you interned?
I interned for the Urban Libraries Council in Washington, D.C., which focuses on educational equity and on centering libraries as a resource to marginalized communities. I did a lot of meeting coordination. I was writing a big grant, helping pilot a summer program. It was a lot of research and logistics. I love D.C. I will definitely end up moving there after I finish law school. Now I'm interning with the Human Rights Commission and the African American Reparations Advisory Committee, through the McCarthy Fellows Program here in San Francisco. I really like this internship. My everyday life depends on if we have an event or not. Last week, I helped host a listening session — that was actually at USF.
What do you like about these events?
I think it's just the community engagement aspect. I love that we can create something that brings a lot of people together and that also has a positive impact on a lot of people.
Are you minoring in anything?
I have an African American Studies minor, and then I have the McCarthy Center minor — the public service and community engagement one.
How have your internships enhanced what you've learned in the classroom?
My experiences have been very affirming in letting me know what I want to do and the things I want to accomplish and pursue. All the people at the McCarthy Center have been super supportive. 
What's been the most surprising thing you've learned in your internships?
I don't have to go into politics or law because of my major. There's so many other things I could do, so now it's a choice and not something I feel like I'm forced into. I'm super focused on creating equity-based solutions in low-income and minority communities. I've definitely found a passion for educational equity and helping disrupt the school-to-prison pipeline. 
How did you become interested in the school-to-prison pipeline?
I think through my internships. I've done some work around education, some around criminal justice, and I like connecting the dots. 
What do you like about the McCarthy Center? 
The center is so supportive. Everyone who's [managing] each program, they really get to know you. They match you with the perfect person or organization, and they help support you throughout the semester, through classes, workshops, and training.
Were there any classes at USF that stood out to you?
From the classes I took, I have two favorites: the Politics of Social Movements taught by Professor Friedman and Urban Politics taught by Professor Taylor. For Politics of Social Movements, everyone had to do a case study on a different social movement, domestic and international, and that was just so impactful because we learned about so many different social movements and how they came about. That class actually inspired, in part, my thesis topic about a social movement. As for Urban Politics, Professor Taylor is a powerhouse of a professor; he's super knowledgeable about so many things. We did a case study on cities. Each person had to pick a city to do, and I actually did D.C. That was the semester before I moved there.