Passion for Justice
Making Us Matter
In response to COVID-19, USF doctoral students co-found virtual high school.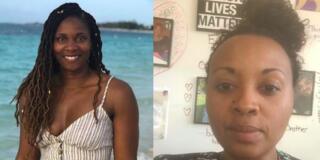 Financial Literacy, It's Lit (Language Arts), Ourstory (Real History), Portrayals of Blackness in Film.
These are some of the courses high school students across the Bay Area are engaged in virtually and free of charge thanks to Making Us Matter Virtual High School.
Established in March 2020 by international and multicultural education doctoral students Eghosa Obaizamomwan Hamilton and Gertrude Jenkins, Making Us Matter is a collective of Black Educators providing academic instruction in the midst of COVID-19 school shutdowns.
"When schools were closed due to COVID-19, students were sent home - some with many resources and others with very little support," explains Obaizamomwan Hamilton.
COVID-19 immediately highlighted the inequities that exist within our education system.
In response, Obaizamomwan Hamilton and Jenkins got to work. They launched Making Us Matter Virtual High School which seeks to build a shared community of Black educators who are invested in providing students with a curriculum that is both challenging and empowering. Through critical thinking and a social justice lens, Making Us Matter recognizes, emphasizes and humanizess Blackness
"We wanted to serve Black students in particular because of how underserved Black students are in traditional schools," says Jenkins. "Black inclusion is lacking regardless of school setting - affluent or not."
Offered free of charge, Making Us Matter is open to all high school-aged students from any ethnic and/or cultural background who understand the need for a curriculum that challenges anti-blackness. Course design is driven by the belief that Black-centering curriculum is good for all students. Classes are offered virtually Monday through Thursday for four hours each day.
In addition to supporting students through curriculum, Making Us Matter is committed to the belief that every student needs a Black teacher. When registering, student participants are surveyed about how many Black teachers they have had. The results are typically none.
As much as this is a space for students, we want to make it clear that it's a place for Black teachers as well," says Jenkins. Making Us Matter is invested in creating a community for Black teachers - those already working in the field of education and those that are interested in exploring teaching as a career.
"Making Us Matter is a beautiful example of active processes of creation and change even in this difficult present," says Dean Shabnam Koirala-Azad.
None of us expected or wanted this turn of events. The reasons why the USF School of Education community works to advance justice through education transcend the timeline of this pandemic, and this effort shows how we respond constructively even in moments of crisis.
With plans to continue virtual instruction through the summer, offer SAT and ACT test preparation, and ultimately establish a physical space for the school - Making Us Matter has already begun to transcend this pandemic.
Get Involved: Connect with Making Us Matter
Learn More: USF's International and Multicultural Education Program