Alumni
Mental Health on the Frontline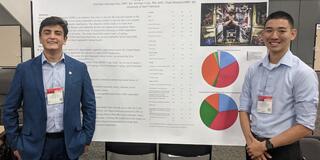 Emergencies don't shelter-in-place. While millions are forced to stay home, Emergency Medical Service (EMS) providers like Chih Ren (Nicholas) Koo '16 respond to critical emergencies every day. While not a job many can do, EMS providers are confronted with stressful and taxing situations on a regular basis, responsible for providing quality care for the sick and injured. Trained to care for others every day no matter the situation, Koo knows all too well that many EMS professionals are not in turn, tending to their own mental health.
"I love my job. I go out every day and make a difference," Koo said.
But even he acknowledges the unseen reality of his work, where "the daily grind of stepping in and out of emergencies is stressful, and the field breeds a culture where expressing emotions is seen as a sign of weakness."
For Koo, the reality of the day-to-day work and the prevalent taboo of mental health renders many responders unable and unwilling to seek mental healthcare for themselves.
When the Sirens Turn Off
Over the past five years, Koo has witnessed too many in the EMS field grapple with post-traumatic stress disorder (PTSD), which has made Koo eager to promote mental health resources in an underserved profession. He hopes to expand his passion through his graduate studies at USF.
"I'm interested in using my degree to do counseling and research for the EMS community," he said.
As a graduate student in the Master's in Counseling Psychology program, Koo co-authored and published a study in the International Public Safety Association Journal. His research looked at different coping strategies that positively or negatively alter post-traumatic stress levels.
"We found that the most helpful coping strategy was active emotional coping —venting, humor, positive framing, and acceptance of mental health issues," he said.
Koo also found that EMS agencies play a vital role in impacting the stress levels of first responders. Results demonstrated that working in an environment that supports mental health significantly decreases stress.
"During a State of Emergency like the shelter-in-place order, tensions and stressors are high, and knowing that your manager and peers have your mental health in mind is invaluable," Koo said. "Ultimately, our research offers multiple recommendations but openly talking about mental health is the most valuable one."
Education in Action
Koo has been in the field now for 5 years and is currently a paramedic. Transitioning from his education at USF into the field was simple as he kept the university's Jesuit values of caring for the whole person at the forefront of both his education and his career.
"A lot of who I am and what I choose to do is because of USF," Koo said. "What I learned from my time at USF as a Psychology undergrad and now as a Master's student, is how to take a step back and approach life with compassion before all things."
Support working graduate students like Nicholas.