Education for Social Change in South Africa
A Panel and Conversation with Professor Andre Keet and Emile Jansen
On Wednesday February 13, scholar and former Deputy Chief Executive Officer of the South African Human Rights Commission, Professor Andre Keet, and Emile Jansen, founder of South Africa's first hip hop group, Black Noise, visited the University of San Francisco to discuss the potential for education to contribute to positive social change. Organized by the International and Multicultural Education Department (IME), Professor Monisha Bajaj, Chair of the IME Department, welcomed the packed room of over 100 attendees to the event. She introduced IME Adjunct Faculty, Meetali Jain, an international human rights lawyer who previously founded a human rights organization in South Africa, to moderate the conversation.
During Emile's presentation, he discussed how he trained as a teacher under the racist apartheid regime in South Africa in the 1980s. He discussed getting disillusioned with public schooling as a place for transformative learning given all the limitations on what could be said and done in institutions operating in a deeply unequal and authoritarian context. He shared the example of being shot at by the apartheid police solely because of the color of his skin. Emile discussed how he got introduced to hip hop and began doing community-based education using hip hop as a means to engage youth in valuing their African-ness despite the larger colonial and apartheid regime messages that deemed anyone with African heritage inferior. Emile showed several videos of his work with the Heal the Hood project in Capetown that he founded, as well as videos of activist music he has helped create over the past three decades.
Andre Keet followed up with a presentation discussing dissident knowledge and transgression towards social justice rooting his it in his own experience, and Emile's, in the anti-Apartheid struggle. Professor Keet went on to discuss student protest movements from around the world (through analysis of the demands of each movement) to understand why and how young people seek greater inclusion in higher education in the midst of increasing alienation. He also discussed the globalization of the Black Lives Matter movement and how the Black students movement in South Africa has been influenced by global events. He further discussed how a decolonial critique of human rights can strengthen the practice of human rights in higher education and outside of the academy.
Professor Meetali Jain moderated a lively discussion with the audience and participants stayed long after the event to engage with the guest speakers.
Watch a Recording of the Event
A Reflection on the Event from Human Rights Education-MA Student Laura Vesga Villalba:
"The day of Emile Jansen's and Andre Keet's presentation on February 13th, there was a strong calling to reimagine education. I appreciated how honest and transparent Emile was in calling out the educational system in South Africa, and his personal need to separate from the formal education teaching system given that he could no longer continue to teach due to content that was not culturally relevant…. Another important take-away that I got from Emile's presentation was the important role that parents play in raising their children, specifically with culturally relevant content. He specifically brought up the term Afrocation as the intentional work that he was beginning to do through his new role as a father, which ultimately led him to creating books that were culturally relevant so that he could teach his child culturally relevant content where HE was at the center of the story, which I found to be very empowering, and I am glad that his work exists to allow for children to see themselves represented, and also their oral histories/traditional stories represented as well.
Andre touched upon forms of discontent and protest, and pointed out that, when it comes to protest, "if you protest according to the hegemonic order, you are actually serving the system", which I found noteworthy. He also critiqued rights by noting that one of its weaknesses was that it turned humans into legal entities, which in it of himself (he noted) was dehumanizing (mind blown!). He noted: "How can we invest the human into rights, and not the rights into human?"
Both Emile and Andre were phenomenal speakers, and it was very enlightening to hear them speak. I was not familiar with a lot of South African history, present situation, or challenges faced there, but it was very interesting to hear them speak about critical higher education and hip hop pedagogical approaches to education as an act of empowerment and self-discovery, respectively, and see how many parallels in their talks were applicable to the United States. Here, too, there is a need for more culturally relevant content and the need for transformative, critical higher education. Thank you for bringing these scholars!"
André Keet is a trained teacher and educator, and former deputy chief executive officer of the South African Human Rights Commission. He also served as a commissioner of the Commission for Gender Equality in South Africa. Professor Keet is currently the Chair of Critical Studies in Higher Education Transformation at the Nelson Mandela University in Port Elizabeth, South Africa. His research and postgraduate supervision focus on higher education transformation, social justice and reconciliation, and human rights, democracy and citizenship education.
Emile Jansen (also known as Emile XY?) is one of the pioneers of South African Hip Hop who starting breakdancing in 1982. He is a founding member of South Africa's 1st Hip Hop Group, Black Noise. He is known for his development work and community outreach projects with Heal the Hood Project, which won Best Hip Hop Organization in 2010. He started South Africa's first Hip Hop magazine "Da Juice" and has written 4 books. He also helped graffiti artists Falko and Mak1 to release their own magazines and 3 compilation of Rhymes, Articles, Poetry, Short Stories and Sketches called R.A.P.S.S. More recently, he has been exploring the terrain of race, linguistics and education by studying Afrikaaps as a creolized language indigenous to Cape Town, South Africa. In 2017, Emile was invited to be an Artist in residence at Stanford University.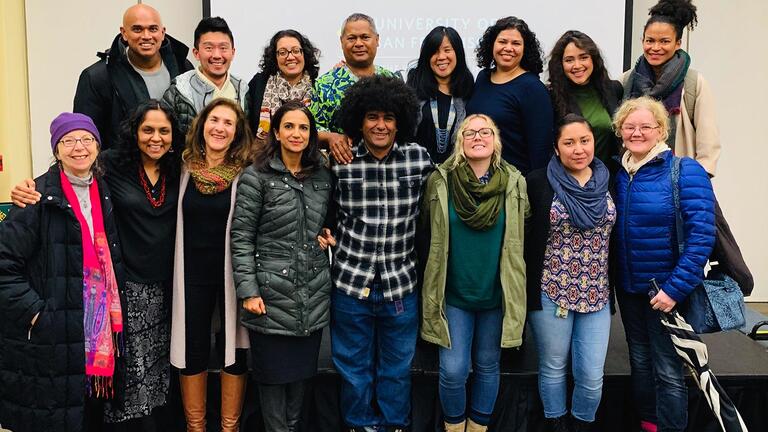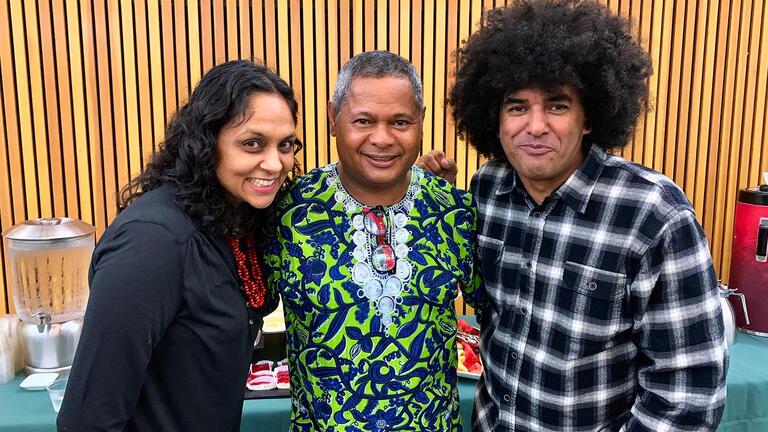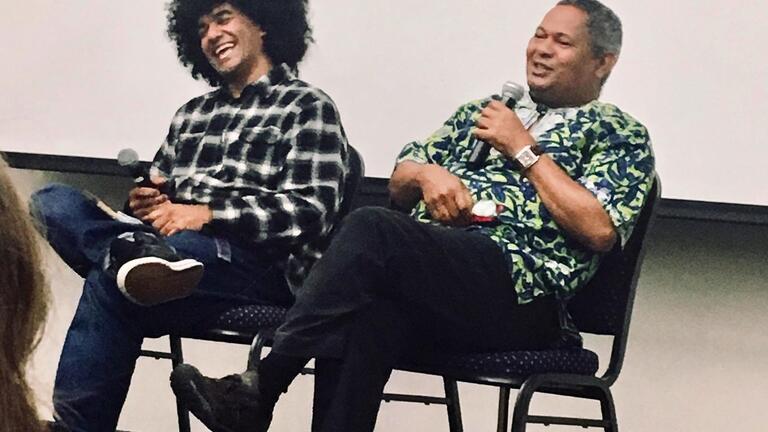 IME and SOE faculty, staff, and students.
Professor Andre Keet, and Emile Jansen, and IME member.
Professor Andre Keet, and Emile Jansen