Engaged Learning
Community Connection
Marriage & Family Therapy students design projects to support communities most impacted by the pandemic.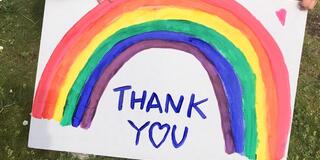 As the world grappled with the horrific impact of COVID-19, Dr. Belinda Hernandez-Arriaga's Community Mental Health class got to work.
The course, part of the USF Marriage & Family Therapy program, introduces students to a model of community mental health recovery and teaches skills for mental health practice through hands-on experience. With the onset of COVID-19, Hernandez-Arriaga's students worked quickly to transition their planned projects to ones in support of communities most impacted by the pandemic.
Students Kristy Noryko and Ali Pietrykowski designed a sign campaign to encourage frontline workers. The project honors the service of non-health care frontline workers - postal service workers, food delivery workers, grocery store workers, and more - who put their lives on the line to provide essential services to so many. Noryko and Pietrykowski invited community members to create and post "thank you" signs to communicate gratitude and encouragement. Participants posted signs on their windows, front doors, through chalk on walkways, and more - and you can join them! Download the flyers, decorate, and post. Students Kelsey Weiss, Eliza Pedder, and Juliet Ernst launched Help for Healers, a website for frontline health care professionals. The website includes mental health resources to support frontline workers and the opportunity to build community with others in the healthcare field through story sharing. The website also includes a thank you page where visitors from outside the healthcare field can express their gratitude to frontline workers. These messages live on the site as a constant source of encouragement.
Students Wendy Rubi, Justin Hernandez, Dominique Negrette, Yelena Pleitez, and Twinisha Doyle launched the solidaritywithasianamericans Instagram account to raise awareness of the racism and discrimination happening towards the Asian American community due to COVID-19. The account seeks to provide resources for those experiencing discrimination, and serves as a reminder of the allies speaking out against racism and xenophobia.
What began as a way to provide support to her grandmother during quarantine, became a much larger project for student Jacqueline Warner. Jacqueline began caring for elders in her grandmother's neighborhood by running errands and completing chores and yard work. Her acts of service have kept those in a high risk population safe during the pandemic.
The work begun in Hernandez-Arriaga's class during the spring semester continues on, serving as a reminder of the role we can all play to support to one another during this challenging time.
Learn More: USF's Marriage & Family Therapy program