Giving
Making Cura Personalis a Profession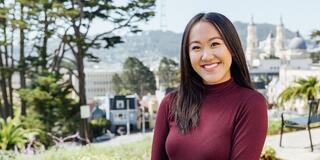 Chloe Kam '22 recognized early on that caring for others was her life's passion. As a teen, she was a caretaker for her grandparents, laying the groundwork for her commitment to helping others.
Although her parents did not have the opportunity to graduate from college, they supported Chloe's passion to pursue her dreams. Those dreams led Chloe to USF, where she took advantage of the university's established nursing program, commitment to social justice, generous scholarships, and financial aid. 
Chloe was inspired to make USF her academic home because of "... the philosophy that learning should be a humanizing process centered on cultivating a strong collaborative community. A USF education is an experience that focuses on empathy and compassion for others — core values within the nursing profession," she said. "USF instills these values in me every day," says Chloe. 
Building Community through Education
Nursing majors like Chloe benefit from this sense of community, especially as a member of a cohort, where students progress through the program as a team and develop close-knit relationships that provide support while they undergo rigorous coursework and training.
"I'm with my cohort all the time. I feel like I've made lifelong friends within my cohort," Chloe said. "Being together diverts the focus away from competing to collaborating — we're there for one another and want to succeed together."   
The nursing curriculum's humanizing roots come from USF's strong foundation in Jesuit tradition which ensures that students develop an inclination to care for a patient's entire wellbeing; mind, body, and spirit. 
Two of Chloe's courses, Public Speaking for Health Professions and Introduction to the Techniques for Healthy Cooking: Serving Vulnerable Populations, exemplify how students are encouraged to connect their minds with their hearts and model cura personalis, or "care for the whole person." 
Expanded Horizons
In addition to the nursing program, Chloe is a member of the inaugural class of USF's Honors College that provides an opportunity for students to develop their analytical and critical thinking skills. The program allows her the opportunity to integrate the humanities, arts, and different perspectives into her nursing education. 
"Through the honors college, I was able to dip my feet into other cultures; European literature, Asian literature, and African-American literature," she said. "I've grown up with a very American-centric education, but now I've learned to see the world through the lens of different philosophers. I also learned just how complex ethics can be. Simple everyday decisions have so many layers to them — I see that now." 
As a J. Paul Getty Scholar in the Honors College, Chloe receives a scholarship every year to study abroad, complete an internship, conduct research, or participate in an apprenticeship. This past year, she went on her first trip abroad through the immersion course, Photographing Budapest: Urban Tensions, Global Trends.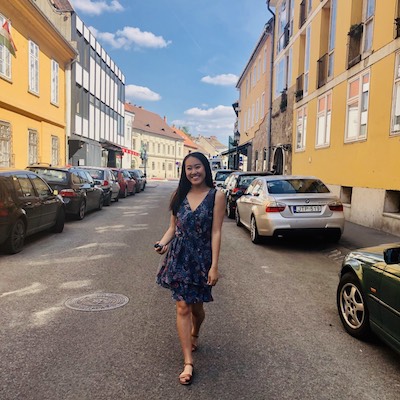 This Honors College course is designed to introduce students to the Hungarian capital of Budapest and its contemporary history. Covering an array of topics under the umbrella of urban trends and social justice, students learn about refugee situations, struggles to preserve urban and historical heritage, and the role of arts in advancing or resisting the current political landscape unique to the region. At the very end of the course, Chloe used photography to capture the complex and current reality of the city. 
"I took the bus and train around the whole city by myself, photographing moments that were pretty profound," Chloe recalled. In her artist statement, Chloe wrote about the history of hardship in Hungary and how, despite the hardship, the people have managed to preserve their language, culture, and identity. "I learned that as humans we all share this fundamental desire to hold onto the things we care about and the things that make us who are," she shared. 
For students like Chloe, this international experience provides a worldly perspective that is critical for any career. Through USF, Chloe intends to combine her scholarship funds and academic skills this Winter to travel to the Dominican Republic as a medical outreach volunteer.  In the meantime, with a year of rigorous nursing coursework under her belt, a supportive cohort by her side, and guidance from USF faculty and staff, Chloe is focused on providing quality healthcare for patients during her clinical rotation at the Dignity Health Medical Group - Saint Francis/St. Mary's 
Learn more about supporting students
This story was written in support of Changing the World from Here: Campaign for the University of San Francisco.