Alumni
Turning the Tassel: Centering Joy and Celebrating Community
Five Questions With Juno Chambers MA '21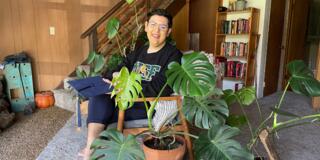 As one season of celebration comes to a close, another one begins. Pride month brings forth the necessary time to reflect on LGBTQ+ history and to celebrate the accomplishments of LGBTQ+ identifying members at USF and beyond. Juno Chambers MA '21, a recent graduate of USF's Master in Higher Education and Student Affairs (HESA) program, shares how the university community uplifted them throughout their graduate school journey and created space for them to make an impact of their own.
Chambers leaves behind an admirable two-year legacy as a graduate coordinator for the Gender and Sexuality Center and an organizer for USF's End of the Year ceremonies. This year, at the 13th annual Lavender Commencement for LGBTQ+ graduates, Chambers joined in on the festivities, donning their specially made lavender stole, and spent the evening surrounded by abundant love and congratulations. Now, Chambers looks forward to other opportunities to continue Changing the World From Here as a new member of the alumni community. 
What does "Changing the World From Here" mean to you? 
To me, it means being in community with those around you and working together to meet community needs by addressing inequities and the many ways they can show up. I always appreciated USF's call for self-reflection as a part of their mission to "Change the World From Here," because it allows you to be connected to the intentions and impacts of the work you are doing in community with others. 
What inspired you to be a part of USF's Master in Higher Education and Student Affairs (HESA) program? 
I chose the HESA program because of the strong mentors and friends who showed me that higher education could be a place of transformation and liberation. I have appreciated every moment to learn and grow with my cohort as we learned what being in solidarity looked like in our roles and our lives. 
After a tumultuous year, what was it like to participate in this year's Lavender Commencement, and what's next after USF? 
It was really beautiful to see the ceremony and to be recognized. I have supported the End of the Year Ceremonies for the past two years — both of which were done virtually — so I know how much stress goes into making it happen. I also supervised the Trans and Non-binary Community Meet-Up space, so I also know how important it is to have these spaces for community and celebration. I am so proud to have been a part of this year's celebration, and I look forward to staying engaged as a member of the Pride Alumni group.
Is there someone at USF that had or continues to have a substantial impact on your college experience? 
The women of color at USF have nourished me and sustained me in ways that I could have never imagined. Ria DasGupta, Gladys Perez, Mary Wardell-Ghirarduzzi, Tanairy Carbo, and Jinni Pradhan all deserve their flowers and have my utmost gratitude for their wisdom and guidance. And to Lionell Daggs, who supervised me for the past two years, thank you for your courage, wisdom, and for allowing me to grow. I appreciate you deeply for your queer brilliance.
What is a piece of advice you can give to current Dons?
Hey, Dons! I know that you are looking forward to being back on campus and finishing up your degrees. As a graduate student, I didn't have much time to be at USF, let alone be on the USF campus, but I would encourage you all to find what gives you joy in your studies, in your work, in your life, and to center that joy in all that you do. We each have our role in Changing the World, so make sure you are proud of the joy you have cultivated. 
To support students like Chambers, consider making a gift in support of the School of Education and Changing the World From Here: Campaign for the University of San Francisco.