School of Education Welcomes New Faculty Members
The School of Education welcomes Violeta Murrieta and Gena Castro Rodriguez to the Counseling Psychology Department.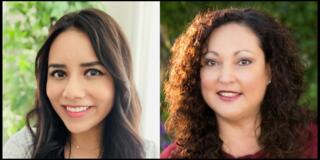 The School of Education is excited to welcome Violeta Murrieta and Gena Castro Rodriguez as new faculty in the Counseling Psychology Department. Learn more about their work and what excites them about joining the School of Education community.
Professor Violeta Murrieta is a doctoral candidate in Counselor Education and Supervision at Oregon State University. Her research and professional interests include advocacy and counseling undocumented populations, DACAmented students, first-generation students, multicultural counseling and social justice, as well as school counselor education and bilingual counseling. Professor Murrieta is a credentialed school counselor in Nevada and California. She is excited about working with future educators and mental health professionals that will be serving our communities. 
Professor Gena Castro Rodriguez is a psychologist and licensed marriage and family therapist who holds a bachelor's degree in psychology from Sacramento State University, a master's in counseling psychology from the University of San Francisco, and a doctorate in clinical psychology from the California Institute for Integral Studies. In clinical private practice, she specializes in trauma and young women using a control mastery and relational framework.
Professor Castro Rodriguez has worked with children and youth in the dependency, delinquency, and criminal justice systems for the last twenty-five years. She was the co-founder and executive director of the Youth Justice Institute. Her professional interests are in the areas of trauma, female delinquency, cultural humility, victimology, and gender responsivity. She has written in the areas of trauma, delinquency, LGBT youth, and vicarious trauma, including her doctoral dissertation, entitled The relationship between sexual trauma and risk-taking behavior for African American and Latina Girls.