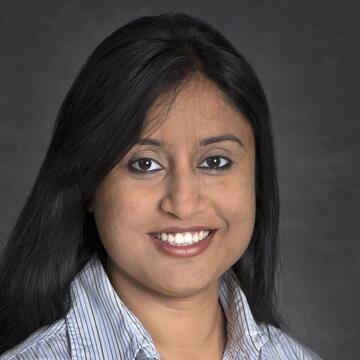 Amrita Bhattacharyya
Assistant Professor
Harney Science Center 322
Biography
Amrita Bhattacharyya is an environmental geochemist. After completing her BS in Chemistry and MS in Environmental Chemistry from University of Calcutta, India, she moved to the USA to pursue her PhD in Environmental Chemistry at Pennsylvania State University. She continued to pursue her research in environmental chemistry as a post-doctoral fellow at Colorado State University before joining the Earth and Environmental Sciences Area at Lawrence Berkeley National Laboratory in 2015.
At USF, Bhattacharyya's research interests involve the investigation of environmental geochemistry problems that are driven by climate change. Specifically, she focuses on the nexus between natural carbon/nitrogen cycling and metal redox chemistry, and the impact of this coupling on-field and molecular-scale processes. Much of her research is accomplished using process-based measurements and state-of-the-art synchrotron-based spectroscopic (XAS), microscopic (TEM, SEM), and diffraction (XRD) methods to understand elemental oxidation state and bonding environment in soils and synthetic metal-organic complexes.
Research Areas
Analytical geochemistry
Climate change
Metal redox chemistry
Carbon cycling
Synchrotron-based characterization of environmental systems
Education
Pennsylvania State University, PhD in Soil Science, 2012
University of Calcutta, MS in Soil Chemistry, 2007
University of Calcutta, BS in Chemistry (Honors), 2004
Selected Publications
Bhattacharyya, A., Kukkadapu, R.K., Bowden, M., Pett‐Ridge, J. and Nico, P. (2022) Fast redox switch leads to rapid transformation of goethite in humid tropical soils: A mossbauer spectroscopy study. (in press) Soil Science Society of America Journal. 

Bhattacharyya, A., et al. (2019) Ligands representing important functional groups of natural organic matter facilitate Fe redox transformations and resulting binding environments. Geochimica et Cosmochimica Acta, 251, 157-175.

Bhattacharyya, A., et al. (2018) Redox fluctuations control the coupled cycling of iron and carbon in tropical forest soils. Environmental Science and Technology, 52 (24), 14129-14139.

Bhattacharyya, A., et al. (2018) Iron speciation in peats: Chemical and spectroscopic evidence for the co-occurrence of ferric and ferrous iron in organic complexes and mineral precipitates. Organic Geochemistry, 115, 124-137.

Bhattacharyya A, et al. (2017) Biogenic non-crystalline U(IV) revealed as major component in uranium ore deposits. Nature Communications 8(1):15538.

Bhattacharyya, A., et al. (2013) Redox interactions between Fe and cysteine: Spectroscopic studies and multiplet calculations. Geochimica et Cosmochimica Acta, 122, 89-100.