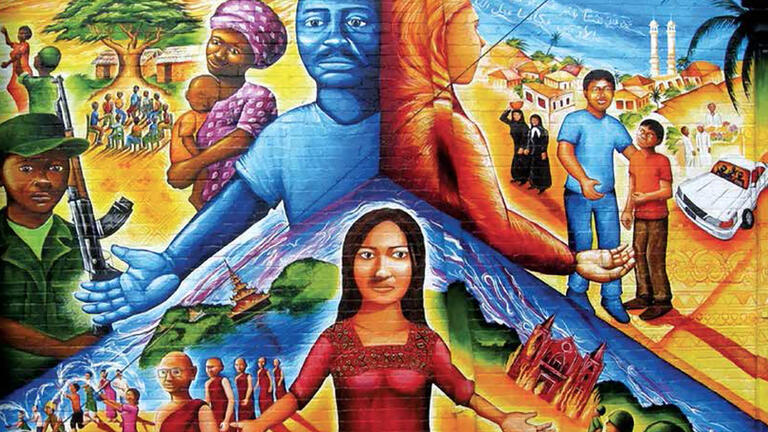 Migration Studies, MA
Student Ambassadors
Our student ambassadors boast both a diverse and qualified group of individuals who are currently undertaking the Master of Arts in Migration Studies. They are here to share their experiences and advice for those interested in joining the program as well as answering any questions you may have about studying at the University of San Francisco. Contact a Migration Studies Ambassador to find out more!
Zefitret Abera Molla
Image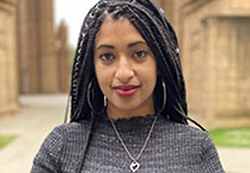 Name: Zefitret Abera Molla
Email: zamolla@dons.usfca.edu
Hometown: Addis Ababa, Ethiopia
Favorite Bay Area Restaurant?
Mums – Home of Shabu Shabu in Japantown
Why USF?
I chose USF specifically because of the Master's in Migration Studies program, it is one of the only migration studies programs in the U.S. I wanted a master's program that would not only teach me in depth knowledge about migration but also allow me to explore my interests as it relates to the intersection of race and migration. Furthermore, USF's location in San Francisco, one of the most vibrant cities in the U.S., made it my top choice.
What has been the highlight of your program thus far?
The highlight of my program was being able to study abroad in Mexico City, at the Universidad Iberoamericana, one of the most prestigious Jesuit universities in Latin America, and conducting fieldwork among African and Haitian migrants in Tijuana through a research travel grant by the Master's in Migration Studies program. These experiences allowed me to make strong connections with experts in migration and witness first-hand what happens at the U.S-Mexico border.
What advice do you have for prospective students?
I think the best advice I could give to prospective students is to use all the resources offered by the program. The program has great professors who would be more than willing to help you, they can put you in touch with organizations that you might want to intern in or shelters you want to volunteer at, the program can also provide you with funds for fieldwork. Graduate school might seem hard but asking for help and guidance can make your experience so much better.
Diana Tovar
Image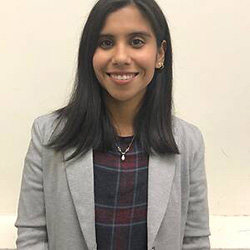 Name: Diana Tovar
Email: dmtovar@usfca.edu
Hometown: Neiva-Colombia
Favorite Bay Area Restaurant?
Sol Food, San Rafael
Why USF?
Studies at a Jesuit university and in this city were the two reasons why I chose USF. First, because a large part of my family has a Jesuit education tradition. The slogan of the University captivated me: "Change the World from Here." Second, it is living what you are studying. The small number of classmates but from a great diversity of origins, has confirmed that I made the best decision. What we learn is already put into practice in the classroom; I learn a lot from them and the migratory challenges in their countries.
What has been the highlight of your program thus far?
In general, my mind has been opened a lot, both personally and in my knowledge about the world. I have not only studied about US immigration policy, but also European, Asian and others. This has been essential to understanding migration processes from a holistic perspective, and has served as a guide and basis for my research. Likewise, studying migration from the human sciences, such as sociology, has made me see migration from a much more sensitive perspective and closer to reality of the migrant as a human being and not an outsider.
What advice do you have for prospective students? 
Ask yourself if you are passionate about this subject and why. Find a topic that you enjoy doing research on. Take your time; it is not about rushing. In my case, I chose the Venezuelan migration crisis because I fervently want to return to Colombia to work on that and help the migrants. My second piece of advice is to take advantage of the professors and classes for your personal research. Maybe I come from an education in Colombia where the professor-student relationship is quite distant, but here all the faculty is warm and willing to help you in everything you need. That has fascinated me. That is a plus for the learning and research process.
Rolando Diaz
Image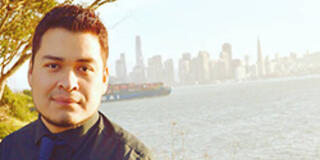 Name: Rolando Diaz
Email: rdiaz12@dons.usfca.edu
Hometown: Sacramento, CA
Favorite Bay Area Restaurant?
Old Jerusalem (San Francisco), Burma Superstar (Oakland)
Why USF?
I chose USF because of the university's commitment to excellence in teaching and service to the community. USF is home to one of the few Master in Migration Studies programs in the Western Hemisphere and MIMS provides an immersive and innovative bi-national curriculum that not only gives you perspective on migration through an academic lens, but they have so many opportunities for hands on learning that teaches not only migration, but about yourself as well. As an LGBTQ Latino, I wanted a university that was committed to advancing our understanding of vulnerable communities such as my own, and I am so happy to have chosen this university where I can research LGBTQ migrant populations with their full support.
What has been the highlight of your program thus far?
The highlight of the MIMS program thus far has to be Mexico City. In addition to the learning experience at Universidad Iberoamericana, traveling the city and navigating a new reality really enhances your perspective on what migration looks like, and where your privilege lies within that migration system. From the moment I showed my passport to Mexican customs to visiting Las Patronas in Veracruz, migration policy follows you everywhere there and it teaches you about the human effects and toll that policy has.
What advice do you have for prospective students?
My best advice for students is to not be afraid. Don't be afraid to voice your views and opinions, not matter how unpopular they may be; don't be afraid to ask your professors questions (no matter how small the question may seem); and don't be afraid to get a move on in your research. Two years sounds like a lot, but it will really go by super quickly. Also, don't procrastinate!