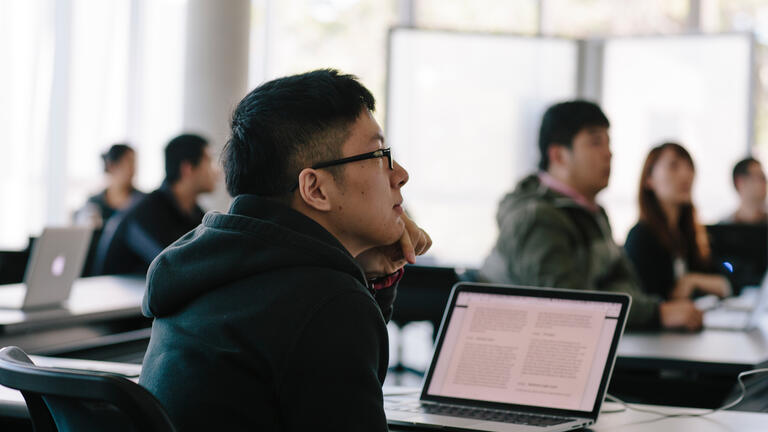 Computer Science, MS
How to Apply
Applications for Fall 2023 are open, and we will continue to review for Fall admission on a space-available basis. We recommend you submit your application as soon as possible to be considered for Fall 2023.
Application Instructions
The application process is entirely online. Please complete and/or upload all of the items listed below to your application account. There is no need to mail items to our office.
Spring applicants are expected to be experienced with programming in one of general purpose programming languages.
Bachelor's Degree
A bachelor's degree is required, preferably in CS or related field. The program accepts three-year bachelor's degrees from international applicants. There is no strict GPA requirement for admission. Applicants with a GPA of 3.0 or higher (on 4.0 scale) have more competitive applications and a higher chance of scholarship award.
For applicants with a non-CS degree, you must demonstrate through prerequisites a high aptitude for CS coursework. Applicants that don't meet these requirements are encouraged to apply to our three-year MSCS Bridge program.
Required Prerequisites:
CS 110 High-Level Programming (e.g. C, Python)
CS 112 Object-Oriented Programming (e.g. Java, C++, C#, Objective-C)
CS 245 Data Structures and Algorithms
CS 315 Computer Architecture or CS 326 Operating Systems
MA 201 Linear Algebra and Probability
MA 202 Discrete Math
Test Requirements
The GRE general test is required. The program primarily considers the quantitative score. The average quantitative GRE score is 164. Applications with a quantitative score below 155 are generally not competitive.
GRE waiver: Applicants with five or more years of experience as a software engineer may request a GRE waiver. For this waiver, please start an online application and send an email to Olga Karpenko, the Academic Director, at okarpenko@usfca.edu with your resume and college-level transcripts.
USF school code for GRE and TOEFL is 4850.
For international applicants, an English Language exam score (TOEFL, IELTS or PTE) is required.
Transcript (Academic Record)
Upload a copy of your transcript from each university and college attended. Please ensure the institution's name and your name is on the document you upload. Transcripts from any schools and study abroad programs must be submitted since Bachelor's Degree institutions typically do not list transfer and study abroad courses with grades. If still enrolled in your Bachelor's program, submit a copy of your transcript showing in-progress courses. If admitted, an official transcript with proof of graduation is required.
Statement of Purpose
The statement of purpose is an essay that describes your background in computer science and software development. We encourage applicants to include in their statement:
Significant software development projects, including your role and contributions.
Research projects and any publications in which you have been involved.
Professional experience, including leadership roles.
Experience in public or community service projects.
If you have low grades in your Bachelor's degree, explain why you believe you will be able to maintain a 2.0 GPA or higher in the program.
The statement should be one to three pages, single-spaced in 12-point font, and with one-inch margins. Essays that do not conform to these specifications will not be read.
Resume or CV
Your current resume or CV lists and describes your educational history, work or job history, coursework related to this graduate program, and any experiences relevant to your pursuit of graduate studies.
Letters of Recommendation
A minimum of two recommendation letters are required for your application (four letters maximum). Follow the instructions in the online application to provide the contact information for your recommenders.
You may submit your application before your recommenders upload their letters.
Scholarship Eligibility
All students, including international students, are considered for MSCS scholarships at time of admission review.
International Applicants
There are additional items and instructions for international applicants.
Visa Application
International admitted students are encouraged to apply for a visa as soon as you receive your I-20. Students may need to try several times before successfully obtaining a visa, so we encourage students to try multiple times if necessary.
Work Eligibility
Most international students are able to work on-campus, and are eligible to work off-campus in the practicum option in the second academic year.
Notification of Admission Decision
Applicants are contacted about an admission decision approximately six weeks after the final application date.
Frequently Asked Questions
It is feasible for students already in the United States to take some of our undergraduate CS courses as a visiting student. However, many of these courses have prerequisites and our undergraduate majors have registration priority. We cannot guarantee space in those courses, or admission into our program.

We prefer to see transcripts for required background courses from state-level universities or community colleges, but additional elective courses taken freely online at places like Coursera, Udacity, or EdX will help strengthen your application.

Experience with web, script, and markup languages such as HTML, CSS, Javascript, MySQL, or PHP will help strengthen your application. However, they do not count as high-level or object-oriented programming languages for the required background.

We do not have conditional admission at this time. Whether or not you have a formal CS background, you need to be prepared to take and pass the same set of core courses as everyone else if admitted.

No, applicants interested in switching programs must follow the same application procedure as everyone else. However, we will consider the courses you have already taken at another program in your application.

No, as a general rule we do not offer transfer credits for graduate courses. This is a university-wide policy.