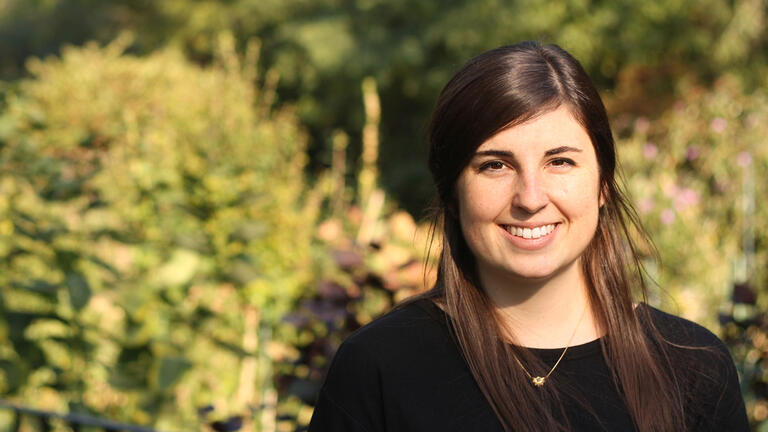 Drawing a Line from USF to NYC
The Fine Art of Book Design
Mendocino is located three hours north of San Francisco on the California coastline. The small village is known for being the location of the TV show Murder She Wrote, an outstanding whale watching site, and a vibrant artist's community since the 1960s. New York City, on the other side of the continent and atmospheric spectrum, is also known for a vibrant art scene. San Francisco, both culturally and for alumna Mia Johnson '13, is somewhere in between.
Mia grew up in Mendocino, and can't recall a time she was not interested in art. She now lives and works in New York City as a Senior Designer at Clarkson Potter, a lifestyle imprint of Penguin Random House, designing illustrated books. This follows a design fellowship at Chronicle Books, a Junior Designer position at Princeton Architectural Press, and an undergraduate education at USF as a double major in Fine Arts and Design.
What attracted you to the Fine Arts program?
I attended an admitted student day where Professor Eric Hongisto gave a sample art lecture, and thought "if this is the vibe here then it's definitely going to work for me." Professor Hongisto became my adviser, and I took many classes with him in my years at USF. The program is very personal, which is a really special thing.
Tell me a bit about the art scene in San Francisco.
Every one of the Fine Art faculty is involved with the larger creative community in the Bay Area, with many opportunities and connections to offer: I had the opportunity to create murals at schools in the city; I interned at a publisher downtown; I worked as a research assistant for Professors Hongisto and Rachel Beth Egenhoefer; and I was able to attend design talks and events in the city with industry professionals through our local American Institute of Graphic Arts chapter.
Can you tell me more about that internship?
I interned for the cover design department at HarperOne, an imprint of HarperCollins, in downtown San Francisco. I was interested in publishing, but didn't have a sense of how the industry worked. I'm glad that USF provided the time and structure for me to have an internship experience and get my foot in the door of the industry. This was a big step forward for me, and was really helpful when I applied for the design fellowship at Chronicle Books.
Did you have any other hands work experiences?
One of the most influential experiences I had at USF was working on-campus at the Graphics Center [providing design services for members of the USF community]. It was really a microcosm of all the jobs I've had since, giving me the chance to develop my skills, and make lasting connections with other alumni. I remember being especially excited to create posters for visiting speakers Augusten Burroughs and Malalai Joya, a Macklemore concert USF hosted, and the Human Rights Film Festival. I can't say enough how that experience set me up for the work I'm doing now at Clarkson Potter.
What does that work entail?
I work with a team of individuals, including the author, editor, an art director, a photographer or illustrator, and a production team to create beautiful full-color books, cover to cover.
I take the editor and author's combined vision and words, and shape them into the book that we will all hold in our hands. I'm involved in creating the visuals that accompany the words, whether that's creating a mood board for a photographer who is shooting the project, or hiring an illustrator to create artwork throughout. I make sure that the final product is attractive and distinctive.
As a working artist, what would you say to someone just starting out?
If you have the drive, the eye, and that intuition that the arts is where you're meant to be, follow that. There are so many more creative jobs out there than people realize; maybe now more than ever before. I never had any doubts it was the right choice for me. While my career now is in design, my fine arts background paved the way for everything I create, from color theory, to finding new media to execute an idea, to creating illustrations – I'm still drawing whenever I can.