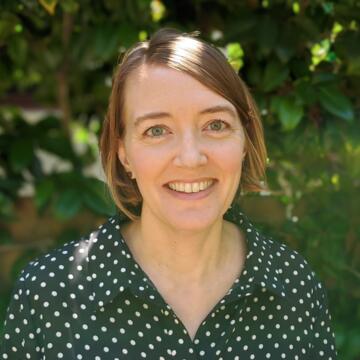 Rachel Beth Egenhoefer
Professor
Biography
Rachel Beth Egenhoefer is a design professor, artist and writer, whose work integrates technology, craft, and design. Her current focus is on sustainability and systems thinking as related to behavior change.
Egenhoefer is currently a full professor in design at the University of San Francisco, where she has taught since 2009. She serves on the College of Arts & Sciences Sustainability Task Force, the steering committee for the Center for Teaching Excellence, and a variety of other committees. She was the founder and faculty advisor for the AIGA student group at USF from 2009-16 and the faculty advisor to the Graphics Center, an on campus student run design firm, from 2009-15. She is the recipient of numerous faculty development grants in addition to the 2012 Faculty Team Innovation Award and the 2015 Distinguished Teaching Award.
Egenhoefer is the editor of the Routledge Handbook of Sustainable Design (2017) and a contributor to Routledge's Sustainability Hub. Believing in the power of education to move sustainable action forward, she has been a part of ASHEE's Sustainability Across the Curriculum Program, and presented her work on sustainable design education at the AIGA Design Educators Forum, PALS (Partnership for Academic Leadership), the School of Visual Arts in New York, San Francisco Art Institute, and others.
Her artistic work has been included in major exhibitions such as the Boston Cyber Arts Festival, ISEA in Tallinn Estonia, La Noche en Blanco in Madrid, Art in Storefronts in San Francisco and at The Corcoran Gallery of Art in Washington, DC, The Institute for Contemporary Art (ICA) London, The Banff Centre for the Arts, and many others. She has been an artist in residence at Tsinghua University in Beijing, the University of Brighton in the UK, and other local organizations.
As a designer her work can be seen on Regina Spektor's Begin To Hope Album (Warner Brothers, 2006), as well as in both local and international publications such as Art Forum, The San Francisco Chronicle, Media-N, and others. Rachel Beth formerly worked as the Web and Program Designer at Yerba Buena Arts & Events/ Yerba Buena Gardens Festival in San Francisco.
Expertise
Sustainability
Systems Thinking
Community Engaged Learning
Design Pedagogy
Strategic Planning and Curricular Assessment for Higher Ed
Research Areas
Sustainable Design
Systems Thinking
Design for Behavior Change
Appointments
Arts Representative, USFFA Policy Board
Chair, Department of Art + Architecture
Program Director, Design Program
Steering Committee, Center for Teaching Excellence (CTE)
Member, College of Arts & Science Sustainability Task Force
Education
UC San Diego, MFA, 2004
Maryland Institute College of Arts, BFA, 2002
Prior Experience
Adjunct Professor in Design & Industry, San Francisco State University
Adjunct Professor in CADRE Laboratory for New Media, San Jose State University
Awards & Distinctions
Design Incubation Award for Scholarly Publication, 2019

Distinguished Teaching Award, 2015
Selected Publications
Routledge Handbook of Sustainable Design, 2017 & 2019