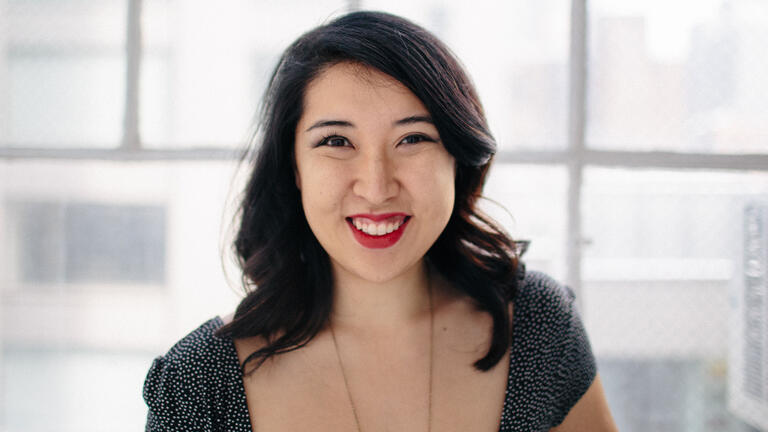 More Than Pretty Pictures
Design Creates Creative Problem Solvers
Since graduating from USF's Design program, Kate Matsumoto '11 has been living in Brooklyn working as a product designer at Etsy, making their website more secure and intuitive for users. Kate said she never imagined she'd be working in tech, but she came to realize how much the tech sphere relies on creative problem solving and other key skills she learned studying Design. Kate loves that she gets to use her design skills to make other people's lives easier. Now, she can't imagine doing anything else.
How did the Design program help prepare you for your job?
The key to being a good designer is being adaptive and well-rounded, and the Design program gave me a really multidisciplinary education. Since graduating, I've designed printed publications, physical products, websites, and mobile apps. All these projects built upon skills I learned in school.
The most valuable skill I learned was how to present my work confidently — how to write and articulate the reasoning behind my decisions, defend my choices, and trust my intuition. This is something I have to do regularly at Etsy.
Why did you want to major in Design?
I loved making collages in high school — combining and juxtaposing images and typography in unexpected and interesting ways. I later learned that this was called graphic design, and that it could also be done on the computer using programs like Photoshop, Illustrator, and InDesign. I came to discover that design isn't just the aesthetically pleasing collision of words and imagery, it's really more creative problem solving for any medium. I hope that what I design makes another person's life easier, especially now that I work on experiences and products that handle transactions between people all over the world.
Why did you choose USF?
I loved how small my classes were and how easy it was to access my professors. I received a lot of individual attention because I frequently went to their office hours and asked how I could be a better student and designer. They even set me up with internships and other employment opportunities — I was a research assistant and intern for Professors Rachel Beth Egenhoefer and Sandra Kelch, and Stuart McKee recommended me for an internship in the USF Office of Communications and Marketing, which eventually turned into my first full-time job after graduation. I definitely would have taken less initiative to succeed at a larger school because it would have been super easy to fade into the background.
What's one of your best memories from your undergrad experience?
The adventures I took with my friends freshman year when the city was still very new to us. A generous endowment was given to the art students in my year that allowed us free admission to select San Francisco art museums — the Legion of Honor, SF MoMA and the de Young. A lot of freshman year was spent going to every exhibition, getting lost in Golden Gate Park and the Japanese tea garden, and taking the bus all the way to the end of Ocean Beach and Land's End.
The Design program encourages students to create work that inspires change, something that resonated with you. How are you continuing to tackle social issues?
I started the podcast So Where Are You From? "So where are you from" is a phrase a lot of minorities have heard. I was born and raised in Los Angeles, yet whenever I tell someone that's where I'm from, that's never the answer they're looking for. I wanted to find out how many times this happens to other people so I could understand how to approach these situations better and know that I was not alone.
We've interviewed an adopted Korean photographer who grew up in Central Florida, a Chinese drag queen from Palos Verdes, CA, and a writer/director from Queens, to name a few. Some stories are comforting and familiar, and some are stories I never would have known if I didn't have the opportunity to interview someone about it. The podcast aims to expose the multitude of backgrounds we all have in an approachable and relatable way, and communicate that we're not all the same.