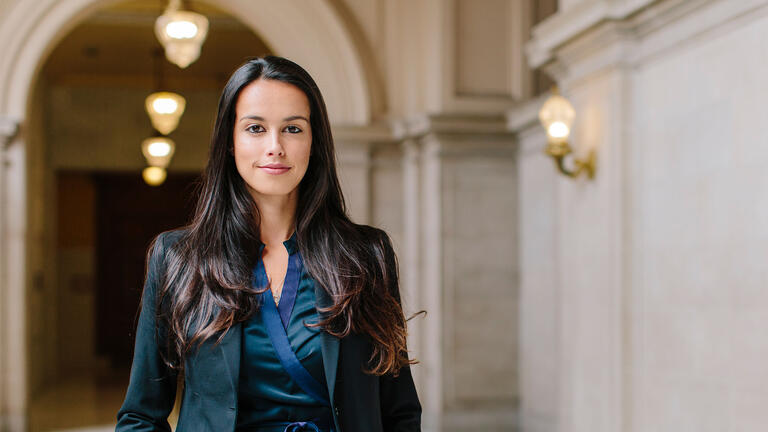 Promoting Justice
Equality at its deepest roots
A passion for social justice is something that drives Cynthia Swaminathan '14 to make real change in the world. Since graduating from USF as a sociology major, she has been working at the San Francisco District Attorney's (DA's) office, while pursuing her JD degree from USF's School of Law.
Her responsibilities as a law clerk include conducting arraignments and preliminary hearings, contacting witnesses, managing subpoenas, and doing legal research for the Assistant District Attorney. She credits her background in sociology with showing her that in order to be a promoter of justice, one must learn all the complexities in social relationships, in order to understand the many inequalities and challenges present within society.
How did the sociology program prepare you for the work you're doing?
Sociology completely changed the way I understand and practice law. Before I came to USF, I was in law school in Brazil. Once I transferred to USF, I thought I knew what it took to be a mindful advocate — I was wrong. Studying sociology at USF I learned, for the first time, about social justice and its impact in law and society. You cannot be a promoter of justice if you do not understand equality at its deepest roots. Law simply became a tool to challenge what needs to challenged, encourage diversity, and promote change where change is needed.
Do you have a favorite moment from your time working at the DA's office?
I have so many special memories from my time working at the DA's office. I had the honor to work with Assistant DA and USF alumna Kathleen McBride '12 as a second chair on a jury trial related to a felony charge. It was amazing to assist her for the duration of the trial. I learned so much about the impact of the prosecution's work on the victims, defendants, and the community.
How did the USF community help cultivate your passion for justice?
USF provided me with so many opportunities to practice social justice and contribute to my community. I had the chance to work with Legal Services for Prisoners with Children, an organization committed to social change. I assisted with the Freedom School program by researching the impact of the organization's programs on communities affected by incarceration, developing and organizing surveys, and answering letters of former and currently incarcerated inmates.
USF not only provided me with great opportunities, but also with an amazing support-system from professors, staff, and friends. Professors such as Cecilia Santos, Hwaji Shin, and Noriko Milman challenged me to constantly be conscious about social justice and the need for change in the world. They also inspired me by showing that change is possible.
What are your goals for the future?
As a first-generation Latina female immigrant, my goal is to practice criminal law with a concerted eye towards equality regardless of people's gender, background, or socioeconomic status. The people of San Francisco should feel the sense of community and trust their legal representation, and with my background, I can continue to help foster this environment. I have always found power in protecting people who needed someone to stand up for them. My goal for my law degree is to protect my community and pursue justice. I want to seek the truth and to stand for the right thing. I believe that I can pursue that goal once I become a prosecutor.
How do you continue to carry on USF's mission?
You can only be the change you want to see in your home, community, and in the world if you practice what you preach. I am committed to do that. I have volunteered over 500 hours in community service, from helping juveniles who had been arrested, to sponsoring children in India and providing them monthly financial support, and personally creating baskets and providing them to San Francisco homeless communities several times a year.
I believe that change is possible and will bring this ideal with me once I become a public servant.