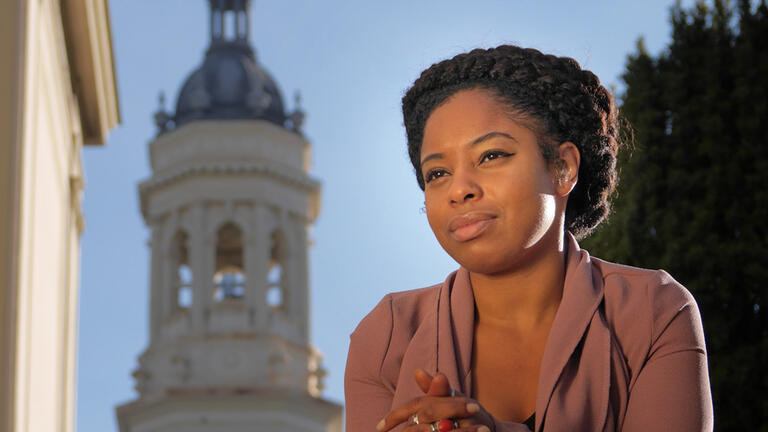 Alumni
Championing Diversity
Focusing on positivity, health, and social justice
"#DiversityMatters." This is the hashtag Keyaira Lock '14 used to express her passion for her job at Twitter. As a lead university recruiter, her passion for diversity is ingrained in her days. Keyaira's job is to build a pipeline of strong, diverse talent for internships and new graduate opportunities. The impact of university recruiting diversity efforts have yielded a double-digit increase in women hires and a triple-digit increase in underrepresented minorities according to 2017's year-over-year growth, which Keyaira is very proud of. She credits much of what she learned about diversity to her time as a sociology major and an Esther Madriz Diversity Scholar (EMDS).
How did the sociology program prepare you for your career?
One of the best gifts the sociology program has given me is a deep-rooted community of family, friends, and mentors. Professor Stephanie Sears was one of the greatest mentors I've ever had. Her mentorship and love provided opportunities for me to grow and develop personally and professionally. To have a strong, fierce black woman professor as a role model has had a tremendous impact on my experience and growth. Her light is infectious, her lessons are unforgettable, and her influence will be felt forever. #SheInspiresMe
What was your experience like with Esther Madriz Diversity Scholars?
EMDS changed my entire experience at USF. From having only three friends my freshman year, to gaining a tribe of 11 that were not only my friends, but my family.
One of the best things about it was the challenging and relevant courses. From Loading..., to our PSA projects with De Marillac Academy, to our annual Fight the Power, the courses empowered us to empower our communities.
For our EMDS immersion trip we had the opportunity to travel to the Bronx and to France, which was one of the most impactful events of my adult life. I wholeheartedly attribute our immersion trip to a fundamental shift in my life that pushed me to focus on positivity, health, and social justice.
As I transitioned from EMDS, I always carried its lessons with me. After graduation, I was awarded a Fulbright Scholarship in South Africa, which allowed me to epitomize the EMDS philosophy, "crossing borders, discovering home." I was challenged and felt vulnerable in many experiences, however I was always open and willing to push through and learn as much as I could. I have USF and EMDS to thank for that!
Why did you choose to attend USF?
My first experience with USF was through the Students of Color Overnight Experience held through the Multicultural Recruitment and Retention department. I was able to witness USF's commitment to social justice and student development. I felt welcomed, included, and inspired from my experience, and I knew USF was my top choice.
How do you continue to carry on USF's mission?
My passion for diversity and inclusion is rooted in the lessons of Esther Madriz, which helped shape my understanding of diversity. Specifically, the importance of having diversity in schools and having role models that look like you is priceless, which is why I'm passionate about diversifying tech! I fight hard to make sure folks of color have a seat at the table.