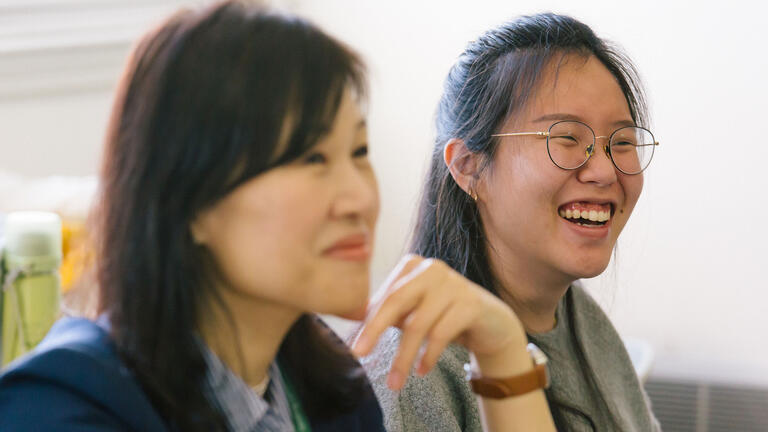 USF IN THE SOUTH BAY
Student Services
Academic Advising
Our South Bay academic advisers are an informational supersource to you as a prospective student — they'll outline program offerings, admission requirements, and every aspect of preparing to begin a rigorous academic program.
Gleeson Library
A wide variety of resources are available through USF's Gleeson Library | Geshcke Center website. Online books, journal articles, document delivery, and videos comprise the offered materials, while online research help, class instruction, and research guides provide guidance in using them. See the library's Online & Distance Services page for key services.
One thing I have to mention is the helpfulness of the librarians, who supported me through every step of my grad school journey, even communicating through text message when I was really stuck. They really made a difference during my time with the program."
Martin Rodriguez-Juarez, MA TESOL '16 Teaches ESL at Cabrillo College
Learning, Writing, and Speaking Centers
USF's Learning, Writing, and Speaking Centers, located on the San Francisco campus, provide free tutoring and other academic support services for every student. Students at USF's additional campuses may visit the main campus for in-person services, or receive assistance via phone or video conference.
Special support services located on the main campus also offer remote services to USF students at our additional locations.

It's no secret that working towards your degree can be stressful, just like life itself sometimes. At USF, we want you to know that you are never alone, no matter how lonely you might feel if you're struggling. Our Counseling and Psychological Services program is here to help and support you. You're able to receive brief individual or couples therapy, and if you require or desire longer-term counseling, you'll receive the referrals you need. We're here, so please don't suffer in silence.

The Office of Student Disability Services works to promote awareness of disability and accessibility concerns across all campuses. No matter which additional campus you attend, you can contact the disability office and register by phone or online. The main office will work with you remotely to address your needs, and appointments can be scheduled either at the main campus or over the phone.

 

Our Career Services Center offers resume writing skills workshops, career and internship fairs, job listings, and opportunities to interview with prospective employers. The Career Advisor Network consists of USF alumni, working in a wide range of fields,  who want to support you both before and after you graduate. Additional campuses collaborate with Career Services to regularly host career exploration and career planning workshops and job fairs locally.

USF's thousands of alumni span the globe and provide invaluable career mentoring and networking opportunities for students and graduates. For more information about services available through Alumni Relations, or for information regarding a local Alumni Regional Council, please visit the Alumni Relations website.
Program-Specific Resources
USF's advisers in each college and program are ready to assist you with any academic issue (regardless of your main campus of attendance). Contact the programs directly with any questions you may have.