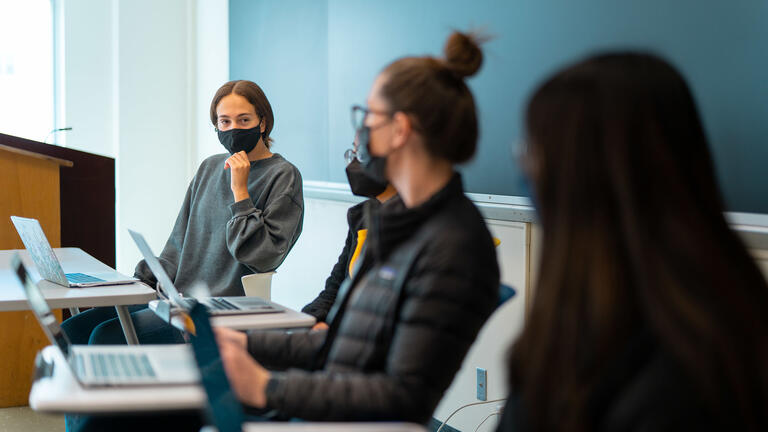 Psychiatric Mental Health Nurse Practitioner, DNP
Admission
Admission to the Psychiatric Mental Health Nurse Practitioner DNP program is based on an overall appraisal of your ability to undertake doctoral study and of your contributions to the discipline of nursing.
Application Materials
All application materials should be uploaded through the online application form. Neither the Office of Admissions nor the School of Nursing and Health Professions accept mailed materials.
You can check your application status online or by contacting the School of Nursing & Health Professions graduate admissions office via email at sonhpadmissions@usfca.edu.
Admission Requirements
The following requirements are considered in the review of applications:
A completed online application and $55 fee
Completion of a Bachelor of Science in Nursing (BSN) or Master's degree (in any field) from an accredited institution
Unofficial transcripts from all colleges/universities attended. Official or unofficial transcripts should be uploaded through the online application form. Transcripts must reflect the name of the institution attended, degree earned, grades earned, and GPA. Applicants should ensure that all transcripts are readable once uploaded. Submission of official transcripts is ONLY required for all admitted students who decide to enroll. For non-U.S. transcripts, applicants please submit translated transcripts.
Recommended grade point average of 3.0 or higher
Three letters of recommendation: Applicants are required to submit letters of recommendation from individuals who can attest to their competence and ability to be successful at a graduate level of study. Letters should discuss the applicant's ability to succeed academically and should speak to his or her potential for professional growth in the field of nursing. In the online form, enter the names and e-mail addresses for recommenders. They will receive an e-mail from USF with instructions to upload their letter. Please note that letters of recommendation must be on letterhead and signed by the recommender.
A professional résumé
Statement of professional goals
Documentation of RN license
For international students only: We are no longer accepting International Student applications at this time.
The University reserves the right to cancel cohorts due to unforeseen circumstances or low enrollment.
State Authorization
Please check our State Authorization Status List for the states and territories from which we can enroll students in specific online degree programs.