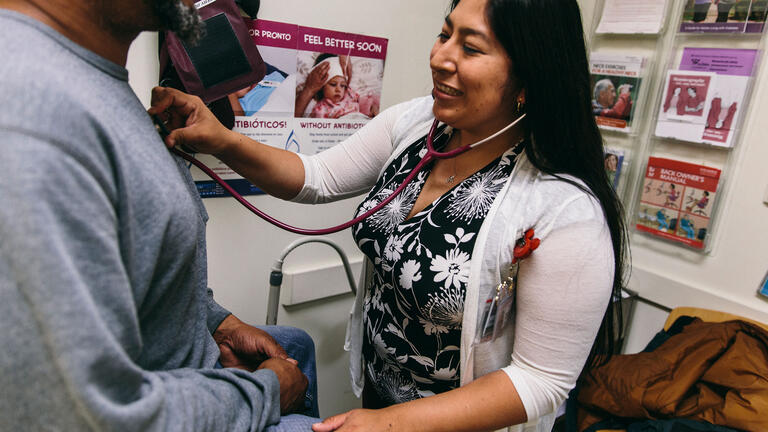 Clinical Nurse Leader (MEO), MSN
The University of San Francisco offers a Master's Entry - Master of Science in Nursing, Clinical Nurse Leader program for individuals who hold a bachelor's degree in a field outside of nursing.
The Master's Entry MSN option prepares students for licensure as RNs while integrating graduate-level curriculum that prepares them for nurse-leader positions. Students complete 68 credits over the course of two (2) years of full-time continuous study at USF's Main campus in San Francisco or in Orange County, with classroom instruction three (3) days weekly and clinical practice two (2) days weekly.
The USF Advantage
The Master's Entry Master of Science in Nursing, Clinical Nurse Leader program is designed for students who hold a bachelor's degree in areas of study outside of nursing and are seeking a new career as a registered nurse (RN).
A USF MSN-prepared nurse is equipped to:
Improve patient care and safety, clinical outcomes, and unit efficiency.
Reduce cost and improve standards of care with the use of evidence-based
practice.
Advocate and enhance promotion for patients, communities, and health
professional teams
Design, coordinate, and evaluate care for a diverse population of patients, families, and communities
Provide services at the point of care to individuals across the lifespan with particular emphasis on health promotion and risk reduction
Synthesize data, information, and knowledge to evaluate and achieve optimal outcomes
Ensure inclusive care planning for patients and families
Program Structure
Full-time, two year program
Classes are offered spring, summer, and fall semesters
68 units
National Council Licensure Examination (NCLEX) taken during fifth semester
Complete more than 1,000 clinical and internship hours in hospitals and other health care settings
Sample Clinical Sites
Kaiser Permanente
Laguna Honda Hospital
Zuckerberg San Francisco General Hospital
Oakland Children's Hospital
California Pacific Medical Center
St. Joseph's Hospital
La Clínica de la Raza
Application Deadlines
The Master's Entry MSN, Clinical Nursing Leader program accepts applications for spring and fall admission at our San Francisco and Orange County locations. Please apply by the following deadlines for Spring and Fall admission. You must complete all required nursing courses at the campus to which you apply.
San Francisco
Spring – September 1st
Fall – February 1st
Orange County
Spring – September 15
Fall – February 1st
Please note, applications are due on the date of the deadline at 11:59 PM PST. The application system is set to Eastern Standard Time, therefore, your application will be considered on-time if submitted by 2:59 AM EST or 11:59 PM PST
Accreditations
The baccalaureate degree program in nursing, the master's degree program in nursing, and the Doctor of Nursing Practice program at the University of San Francisco School of Nursing and Health Professions are accredited by the Commission on Collegiate Nursing Education.
It is also approved by the California State Board of Registered Nursing. Students who graduate from the program are also eligible to receive the California Public Health Nursing Certificate.
L.V.N. 30 Unit Option
Mandated by California Administrative Code, Title 16, Article 3, Section 1429.
The purpose of the 30-unit option for licensed vocational nurses (LVNs) is to provide the nursing coursework and clinical practice for the LVN so that person will be eligible to apply for the examination for licensure as a Registered Nurse in the State of California. The RN license obtained by this method may not be accepted by all states.
This option is NOT part of the University of San Francisco baccalaureate nursing program and does NOT lead to a BS in Nursing degree nor any other degree.
Requirements:
In order to participate in this option for the ME-MSN program, the student must:
Already possess a baccalaureate (bachelor's degree)
Be a licensed vocational nurse
Have completed the application process at USF as a matriculated student or as a "Special Status" student.
Have successfully completed courses in physiology and microbiology comparable to such courses as required for licensure as a Registered Nurse