Equipped to Lead and Succeed
MPH Alum Leads Climate Change and Public Health Discussions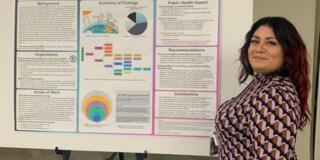 After losing a loved one to illness, Tiffany Cannon MPH '19, was motivated to lead change and search for answers.
She left her accounting job and embarked on a healthcare journey that led her to join the USF Masters in Public Health (MPH) program in Sacramento. There, she found her passion at the crossroads of healthcare and climate change.
"USF gave me the tools to present sound research on climate change's impending public health crisis," says Cannon. "People don't understand how just a one-degree temperature change to our planet can cause huge problems for the entire population."
While at USF, Cannon investigated the impact of climate change on vulnerable groups like homeless populations and agricultural workers. Her research focused on the impact of extreme weather events on these populations in an effort to identify public health impacts and raise awareness on the importance of emergency management.
"By addressing personal preparedness and teaching the importance of governmental emergency management, we can create community resiliency and preserve life," she says.
Currently, Cannon is continuing her research in the climate change program at Yale School of Public Health. She hopes to deepen her knowledge of advocacy and obtain a permanent seat in state-level emergency management and response discussions.